Summer Associates Update
Thursday, August 4, 2022
The firm's Summer Associate program gives law students hands-on legal experience after their second year of law school. Summer Associates assist with current client matters, including drafting briefs and transactional documents, participating in depositions, arbitration, and mediation sessions; attending client meetings; and observing courtroom practice. We sat down with each of them to learn more about their interests inside (and outside) the field of law.
What is a day in the life for you at Lane & Waterman so far this summer?
What area of law do you want to know more about?
What partners are you working with at the firm / what are you doing with them?
What are you reading/listening to right now?
Favorite thing to do/eat in the Quad Cities?
Ian Jongewaard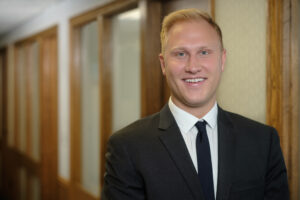 My day typically involves conducting research on a legal issue for a partner and drafting a memo with my analysis. Through this, I have enjoyed getting to learn about and explore several different areas of the law. I've also had the opportunity to participate in depositions and observe trials, which have provided unique learning opportunities.
I have always had an interest in healthcare, so I would love to learn more about malpractice defense. I really enjoyed my tax class this past year of school, so I would also be interested in seeing that area of the law in practice as well.
I've had the opportunity to work with Ian Russell on a variety of projects involving questions of product liability and contract law. Joe Judge has included me on projects involving vehicle lemon laws and rental lease agreements. I recently worked on a project for Abbey Furlong related to the work-product doctrine and attorney-client privilege. Additionally, throughout the summer, I have been working on a project for Josh McIntyre involving a question concerning legal malpractice in estate cases. I have also had the pleasure of working with Mikkie Schiltz, Mike Byrne, Diane Puthoff, and Richard Davidson.
During my commute to and from work, I have been listening to an audiobook called "The Paradox of Choice," which discusses how an ever-increasing number of choices in our day-to-day lives may impact our psychological and emotional well-being.
Nick Yost and I aren't the best at packing homemade lunches every day, so we have had the chance to try several restaurants in the Quad Cities! On top of that, I have had the opportunity to go to lunch with different partners each week. I've really enjoyed Me & Billy, Oh So Sweet, and Lopiez!
Grace Tobin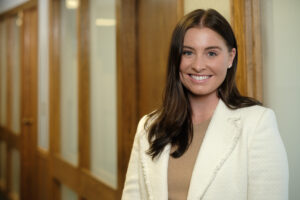 A typical day for me includes lots of research for clients of the firm. The research I have conducted ranges from questions of international civil procedure to HIPAA compliance, constitutional law in a school to probate procedure in wrongful death suits. On one day, I may be drafting a complaint and brief for a client, and on another, I may be drafting memos for any of the attorneys in the firm.
I would love to learn more about real estate transactions. My summer has focused mostly on litigation work, which I gravitate towards; however, I have done a few projects for Diane Puthoff drafting quitclaim deeds and would like to learn more about the real estate transaction process.
I have been lucky to work with a variety of the attorneys in the firm. Recently, I have been doing most of my work for Ian Russell, Grace Mangieri, and Jason O'Rourke on litigation matters concerning general business agreements. I was able to watch Ian give oral arguments in a jury trial last week, which has been one of my favorite experiences of the summer.
I won't even pretend to read super intellectual books in my free time—I usually read whatever is trending on Goodreads! However, I recently had a professor recommend Gideon's Trumpet, a book written by journalist Anthony Lewis telling the story of the landmark Supreme Court case Gideon v. Wainwright. I loved it and highly recommend it.
One of my favorite places to eat in the Quad Cities is Me & Billy. You can't go wrong with the breaded chicken caesar salad. Another great one is Lopiez– they are one of the only places I know that put green olives on pizza (my favorite).
Nick Yost
My day usually involves researching various legal issues for our clients. I've also been able to attend oral arguments, closings, mediations, and depositions.
Over the course of the summer, I've worked with many of the firm's partners. I've researched various tax issues for Diane Puthoff, participated in an M&A transaction with Scott Van Vooren, assisted Richard Davidson in a high net-worth divorce mediation, and analyzed a stock purchase agreement for Mike Byrne.
I would love to learn more about estate planning. I find it to be an interesting area of legal practice and believe it would be a great way to use my financial background.
I'm currently reading two books. The first is The Death and Life of Great American Cities by Jane Jacobs. The book focuses on the principles of city planning in urban environments. I am also reading Truman by David McCullough. I chose to read about President Truman since he was a Midwest president that served during one of the most impactful times in our nation's history.
One of my favorite places to eat in the Quad Cities is Lopiez Pizza in downtown Davenport. I've probably been there once a week since starting with Lane & Waterman. Another great place downtown is Miss Phay's Café. They make a great pad Thai!