Summer Associates Feature: Jack Schelhaas
Monday, July 17, 2023
The firm's Summer Associate program gives law students hands-on legal experience after their second year of law school. Summer Associates assist with current client matters, including drafting briefs and transactional documents, participating in depositions, arbitration, and mediation sessions; attending client meetings; and observing courtroom practice. We sat down with each of them to learn more about their interests inside (and outside) the field of law. Our first feature is Jack Schelhaas.
Jack Schelhaas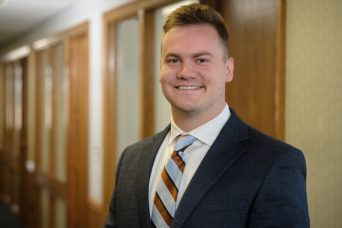 What is a day in the life for you at Lane & Waterman so far this summer?

This summer, each day has looked quite different for me. It has ranged from attending estate planning meetings with clients, to drafting documents for real estate closings, to researching and writing an Answer to an opposing counsel's Petition. Recently it has been a lot of drafting motions for partners on the litigation side of the law, which I have enjoyed more than I would have originally thought.

What area of law are you most interested in?

I have really enjoyed working with Real Estate issues, as well as working with Estate Planning matters. I cannot really say there has been an area that I dislike, and because we summer clerks see so many different areas and work on so many different projects, that has been a blessing.

What partners are you working with at the firm / what are you doing with them?

At this point in the summer, I have worked with nearly everyone around the office. Eric Hartmann and Diane Puthoff have given me a lot of projects that I enjoy, and I have worked with Ian Russell quite a bit as well. He has given me the freedom to really dig into things and sharpen my research and writing skills, which I have really enjoyed. Grace Mangieri and David Waterman are two associates that have really taken me under their wings as well, which I greatly appreciate.

What has been your favorite part of this experience so far?

My favorite part of the experience so far has probably been getting to know each attorney in the office and getting to learn everything I can from them and their areas of expertise. I have been so impressed by the breadth of knowledge and talent the office has to offer, so soaking up as much as I can from everyone here has been a treat.

What are you reading/listening to right now?

Right now, I am on the second to last book of 'The Witcher' series. I definitely have a very nerdy side to me, so that series has been a joy to read through. 'The Road' by Cormac McCarthy was another book I recently read that was a powerful experience, and I look forward to reading another of his classics, 'Blood Meridian,' here soon.

Favorite thing to do/eat in the Quad Cities?

The best thing I have had to eat in the Quad Cities might be a toss-up between 392Caffe's breakfast burrito and Sippi's chicken bacon ranch sandwich. You cannot go wrong with either. Jim's Rib Haven also has some incredible food.