Lane & Waterman Labor & Employment Attorneys Present at MRA Employment Law Update
Tuesday, February 7, 2017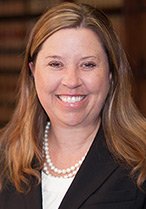 Lane & Waterman attorneys Judy Herrmann, Wendy Meyer, and Abbey Furlong presented at the MRA Employment Law Update on February 7, 2017. MRA—The Management Association—is a trade association providing services to different not-for-profit entities. The seminar, with attendees representing a range of Quad Cities employers, focused on recent employment-related legal developments. Judy and Wendy's presentation discussed employers' obligations to employees with disabilities, and Abbey's presentation focused on misconceptions about the FLSA and pitfalls to avoid.
"We were honored to present at the MRA Employment Law Update," Judy said. "Interacting with employers who live these legal matters every day is one way we can better understand how to help clients when the need arises."
Judy, Wendy, and Abbey practice in the Labor & Employment practice group at Lane & Waterman and present regularly on employment law topics.