Abbey Furlong & David Waterman successfully defend an Eastern Iowa Chiropractor
Tuesday, November 8, 2022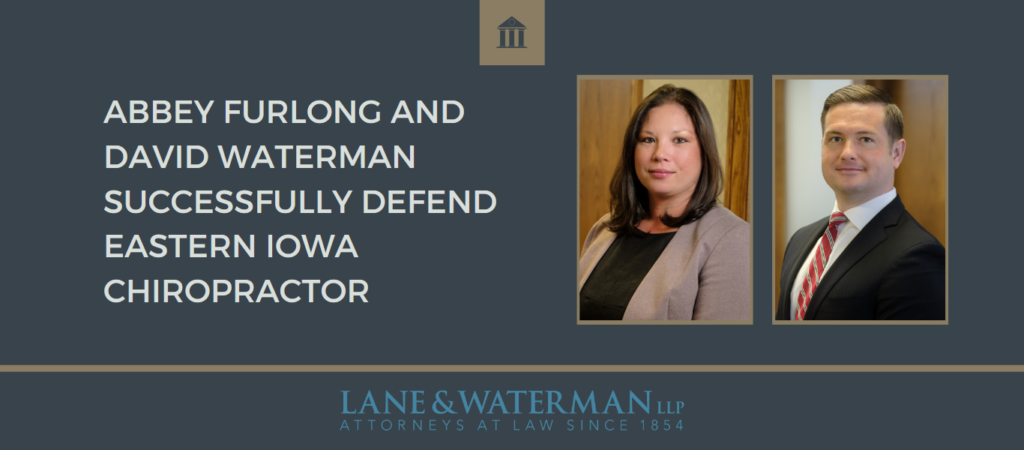 Abbey Furlong and David Waterman successfully defended an Eastern Iowa chiropractor in a professional malpractice action. Plaintiff alleged a chiropractic adjustment in April 2017 caused her to suffer a vertebral artery dissection, a stroke, and subsequent injuries. After a four-day jury trial, the jury returned a defense verdict in less than two hours of deliberations and found no fault in the doctor's care and treatment of Plaintiff. Plaintiff's counsel had asked the jury to award $1.441 million in damages.
Abbey Furlong joined Lane & Waterman in 2010. Her trial law practice primarily consists of professional malpractice, employment law, and products liability.
David C. Waterman joined Lane & Waterman in 2020. His practice areas include civil litigation, white collar criminal defense, government regulatory and compliance, and appeals. Prior to joining Lane & Waterman, David spent more than four years serving as a federal prosecutor at the U.S. Attorney's Office for the Middle District of Florida in the Appellate and Criminal Divisions.