Summer Associates Feature: Andrew Thompson
Wednesday, July 26, 2023
The firm's Summer Associate program gives law students hands-on legal experience after their second year of law school. Summer Associates assist with current client matters, including drafting briefs and transactional documents, attending depositions, arbitration, and mediation sessions; attending client meetings; and observing courtroom practice. We sat down with each of them to learn more about their interests inside (and outside) the field of law. Our feature this week is Andrew Thompson.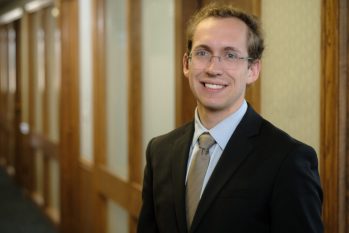 Andrew Thompson
What is a day in the life for you at Lane & Waterman so far this summer?

A normal day for me usually involves talking to partners about a problem and working with the other summer associates to find out as much as we can about the issue. I also do individual research for partners on a wide range of issues from estate litigation to administrative law issues and dealing with agencies. Additionally, I draft answers, motions, and similar court documents.

What area of the law are you most interested in?

I have a longstanding interest in employment and labor law which I have been able to explore this summer. I also have an interest in tax law, but whichever field of law I am working in, my interests lean towards litigation.

What partners are you working with at the firm / what are you doing with them?

I have worked with many partners this summer, but recently I have been spending time with Ian Russell on some litigation issues and Tim Gulbranson on an estate litigation matter. Previously, I was working on estate planning with Sam Skorepa and Diane Puthoff. I have also had the opportunity to go to several interviews with David Waterman, which was a wonderful, enlightening experience.

What has been your favorite part of this experience so far?

My favorite part of this experience has been interacting with other attorneys. Everyone has been incredibly welcoming and getting to know the associates has made the summer go fast. Work-wise, my favorite part of any assignment is the eureka moment when everything clicks into place. Not every problem has a perfect solution, but finding the right information at the right time is incredibly satisfying.

What are you reading/listening to right now?

This summer I have been listening to a lot of Taylor Swift because of the excitement around her 'Era's' Tour. As for reading, I'm working on the Wheel of Time: The Path of Daggers by Robert Jordon. The Wheel of Time series is notably long, so while I am making progress, there is still so much to read! I am also reading a new release by my favorite author, Brandon Sanderson, called Yumi and the Nightmare Painter.

Favorite thing to do/eat in the Quad Cities?

My favorite thing to do in the QC is run or bike along the riverside trail which is gorgeous (as long as the wind isn't against you!). My favorite place to eat in the QC is the Hi Ho Mongolian Grill because I love to watch them cook the food on the wok in front of customers. However, Mongolian Grill is slowly but surely being edged out by Stompbox Brewery and Kitchen Brigade in Downtown Davenport. I discovered Kitchen Brigade only a few weeks ago, and the beautiful river view combined with unique food is a winning duo.