Veteran to Veteran: Tim Gulbranson Presents at Boots to Business Reboot
Wednesday, June 28, 2017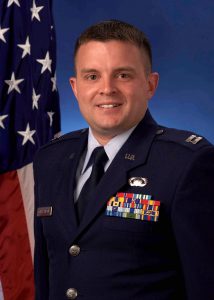 What kind of entity should you use for your start-up? What steps do you need to take in order to form a new business? Are there additional resources for veterans who choose to be entrepreneurs? These are some of the questions Tim Gulbranson will help answer during the Boots to Business Reboot, a day-long seminar provided for veterans and military families by the US Small Business Administration and the Quad Cities Chamber of Commerce.
Tim is familiar with military life, having joined the Air Force in 2005 after graduating from the University of Iowa. During his seven years as an active-duty Air Force Intelligence Officer. He was stationed in Texas, Guam, and Alaska, and deployed in support of Operation Iraqi Freedom (2009) and Joint Special Operation Task Force – Philippines (2011).
He shares how military life changed his perspective on his own career path: "My time in the Air Force provided me the confidence needed to separate from the military and start a completely new career, the discipline to excel in a challenging academic environment like law school, and the unique experiences to distinguish me from others vying for the same opportunities."
In 2012, he separated from the military to pursue a career in law, enrolling at Drake University Law School. Lane & Waterman welcomed Tim to the firm in the fall of 2015. His practice focuses on estate planning, probate & trust administration, general business, and real estate matters.
His presentation will cover the various legal forms of business and the opportunities and challenges associated with each. He'll also cover other legal considerations impacting veteran-owned businesses.
"Like most Americans, I have so much respect for those that serve in the military. As an attorney, I have also developed a deep respect for those individuals that start their own business.  Because of this, I consider it a great honor to take a part, as small as it may be, in assisting veteran entrepreneurs with their transition from military life to the private sector."
Tim presents tomorrow at 9:45 am at the Quad Cities Chamber of Commerce office at 331 W. 3rd Street, Davenport, Iowa. Learn more and register at Boots to Business Reboot.