Scott Van Vooren Named Business Law Section Chair
Monday, July 11, 2016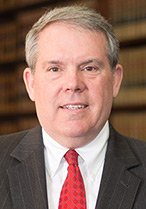 Scott Van Vooren has been named Business Law Section Chair for the Iowa State Bar Association. The ISBA Business Law Section provides an organization for attorneys with an interest in corporation, banking and business law to have discussion, to monitor business law developments and inform the membership of changes, and to provide education through CLEs and other events to allow its members to more effectively practice in this field.
Of the appointment, Scott remarked, "I am honored to serve attorneys in the Iowa State Bar Association as their chair of the Business Law Section."
At Lane & Waterman, Scott focuses on transactional and business matters, including mergers and acquisitions, joint ventures, corporate and limited liability company formation and governance, commercial real estate transactions, and general corporate and contractual matters.
Read the full Section Chair Announcement.