Van Vooren Chairs QCCT Board
Monday, April 19, 2021
Scott Va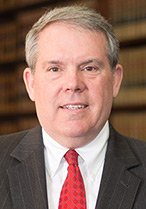 n Vooren is Quad Cities Cultural Trust's new board Chair.
An avid arts and culture supporter and longtime Quad Cities resident, Scott is proud to be serving QCCT. For fourteen years, he has served on the Board of Directors for the Quad City Symphony, is a former QCSO President and led the QCSO's 100th Anniversary campaign.
"I believe our community is stronger when we support and uplift our arts and culture amenities. The call to action to support the arts has never been more important. I look forward to helping lead the cultural trust to respond to this call," Scott shared.
Quad Cities Cultural Trust is embarking on a new era, with their sights set on growing the endowment to $40 million by 2024.
Jen Dobrunz, QCCT Executive Director, echoed Scott's sentiments: "We know that arts and culture matter in our community, and it's our charge to ensure they are here forever."
Scott follows Augustana College President, Steve Bahls, as Board Chair. Quad Cities Cultural Trust is governed by a Board of Trustees with representatives from each of the six of the Quad Cities core cultural institutions and independent community representatives. Scott has served since 2017.
About QCCT: The Quad Cities Cultural Trust will build the financial wellbeing of its supported organizations and champion the cultural vitality of the Region for the benefit of all its citizens.