Technology in the Workplace: March Topic for Board Governance Conversation
Thursday, March 2, 2017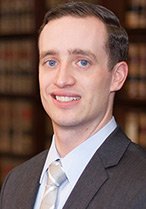 The latest presentation for the United Way of the Quad Cities Non-Profit Board Governance Series aimed to help nonprofits navigate the new terrain of social media and electronics in the workplace. Titled "The Electronic Workplace, Social Media, and Employment Privacy," the presentation gave attendees at Thursday morning's session a high-level overview of Bring Your Own Device (BYOD), social media, and employment privacy policies. The BYOD policy section was presented by Lane & Waterman attorney Josh McIntyre.
He shared his interest in the topic and why it's relevant: "According to a 2014 TechPro Research survey, 74% of companies allow employees to bring their own devices. It's important for employers to consider what their policies say and how those policies impact employee privacy while also protecting employer data."
The Non-Profit Board Governance Series is a service offered by United Way to counsel area non-profits on legal issues related to employment law, contractual agreements, financial oversight, and tax matters.
Jody Faust, Manager, HR Recruitment at Mississippi Valley Regional Blood Center attended the session, commenting, "With the laws and regulations ever-changing, having a resource like the Non-Profit Board Governance series is extremely beneficial. We learn from the attorneys presenting, and also from each other's circumstances."
The United Way of the Quad Cities and Lane & Waterman partner with Deere & Company and another local law firm to offer the series each year.