Ian Russell Spearheads Iowa State Bar Mentorship Program
Wednesday, September 7, 2016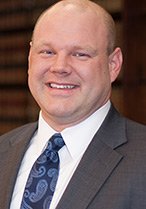 The Iowa State Bar Association's Young Lawyer Mentoring Program, led by Lane &Waterman's Ian Russell, begins its third year of growth this fall. Formed during his year as the bar association's Young Lawyer Division President, the program pairs experienced attorneys with those just starting out to guide them as they start their practice. Ian, who has practiced at Lane & Waterman since 2006, started the program in late 2014 when he recognized that not enough was being done to foster relationships between long-time practitioners and new attorneys. In two years, the program attracted 118 participants. Over half of young attorneys entering the bar participate in the program.
"What started as a dialogue about how to help attorneys entering the practice feel involved and engaged has evolved into a relationship-building, educational experience for mentees and mentors," Ian said of the program's growth. "The vision is to have these relationships carry on for longer than the year of the program."
The Young Lawyer Mentoring Program's goals are to build collegiality, enhance professionalism, grow relationships, and better the legal profession. Mentors and mentees are paired for one year where they follow guided topics ranging from office and time management, interaction with clients and interactions with judges, ethics, diversity, communications, and mental health, among others.