Abbey Furlong Presents on Employment Law for United Way Series
Wednesday, December 14, 2016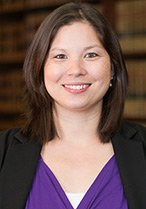 As part of United Way of the Quad Cities' four-part Non-Profit Board Governance training series, Lane & Waterman's Abbey Furlong joined attorneys Jodi Fisk of Deere & Company and Daniel Hardin of Bozeman, Neighbour, Patton, & Noe, to deliver a presentation on employment law topics related to the employer-employee relationship, employee vs. independent contractor distinctions, using volunteers and interns, and exempt vs. non-exempt employees under FLSA. The topics were particularly salient given the current litigation surrounding the new overtime regulations under the Fair Labor Standard Act.
"While the presentation was not focused on the new FLSA overtime provision, the employer-employee relationship and conversations about employee classifications are timely given the pending litigation. Regardless of the outcome, employers need to keep themselves updated on these laws and how they impact their organizations," Abbey said of the presentation topic.
The Non-Profit Board Governance Series is a service offered by United Way to counsel area non-profits on legal issues related to employment law, contractual agreements, financial oversight, and tax matters. Karrie Abbott, United Way representative responsible for the series, commented, "The Non-Profit Governance Training Series has been very well received by staff and board members of local organizations. The participants expressed that the information has been helpful in providing useful and necessary knowledge on governance issues."
The United Way of the Quad Cities and Lane & Waterman partner with Deere & Company and another local law firm to offer the series each year.