Community Service Spotlight: Tim Gulbranson, Gigi's Playhouse
Tuesday, October 3, 2017
The Community Service Spotlight is an opportunity for us to shine light on our attorneys who volunteer with local nonprofits. This week, we talked with Tim Gulbranson, who serves on the board of Gigi's Playhouse Quad Cities.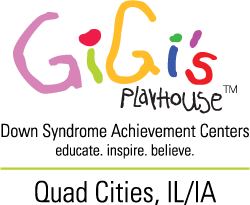 Tim Gulbranson's younger brother Patrick was born with Down syndrome, a chromosomal disorder affecting approximately one in 700 children every year.  That hasn't stopped Patrick from becoming the "most popular and outgoing person I have ever met," according to Tim. "You can't sit down at a restaurant or go to a sporting event in the Greater Des Moines area—where Patrick lives—without someone recognizing him and treating him like a celebrity." What makes Patrick so special? "He's kind, energetic, smart, engaging, and hilarious." Tim says proudly. "He's the most successful person I know, considering the challenges he faces every day."
Having Down syndrome presents Patrick with daily challenges most people could never fathom, making his endlessly positive attitude toward life and persistence to overcome those challenges even more amazing. Patrick hasn't done it alone, though. "While my parents are the number one reason Patrick has grown into the person he is, non-profit organizations like Gigi's Playhouse are a close second."
Gigi's Playhouse was started in Hoffman Estates, Illinois by Nancy Gianni with the goal to change the way the world views Down syndrome through national campaigns, educational programs, and by empowering individuals with Down syndrome, their families, and the community. They have grown to have 33 locations across the United States and Mexico and serve 30,000 families worldwide, including their location in the Quad Cities. All of their programming is free, including math and reading tutors, speech and language therapy sessions, and educational and social programs for children and adults with Down syndrome. All the programs seek to build self-esteem and community.
After seeing firsthand the impact Gigi's Playhouse had on Patrick's life, feeling the need to be a part of something so positive, and try to give back to an organization that had given Patrick so much support, Tim sought out Gigi's Playhouse Quad Cities immediately upon moving to the Quad Cities two years ago. Tim currently serves on Gigi's Playhouse Quad Cities Board of Managers, assisting with fundraising, program planning, and event organization. He attends the annual Gigi's Playhouse Gala in March of each year, helps run a concession stand at the John Deere Classic to raise funds, and will participate in the annual 5K Superhero Run this Saturday morning, October 7th, at Veterans Memorial Park in Bettendorf.
Tim encourages participation in Gigi's Playhouse events with this: "There is no greater purpose in life than helping individuals achieve things they (or others) never thought were possible, and no greater joy than watching those individuals changing the definition of what's 'impossible' right in front of your eyes."
Learn more, volunteer, or sign up for the 5K Superhero Race at https://gigisplayhouse.org/quadcities/quad-cities-volunteer-interest