Community Service Spotlight: Kurt Spurgeon, Lend-a-Hand, Inc.
Thursday, December 28, 2017
The Community Service Spotlight is an opportunity for us to shine light on our attorneys who volunteer with local nonprofits. This week, we highlight Kurt Spurgeon, a partner in our Corporate & Transactional Law practice who serves on the board of Lend-a-Hand, Inc.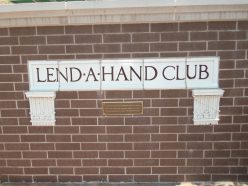 Davenport Lend-a-Hand Inc. sits just west of the heart of downtown Davenport on the corner of Third and Ripley streets. The high rise for seniors puts a roof over their heads and helps put food on the table. Serving on the board with Lend-a-Hand, Kurt Spurgeon is glad to be contributing to their mission in the heart of the city he calls home.
"Working and living in Davenport, I'm committed to ensuring my community is a place where those in need, especially seniors, are able to secure adequate housing and services to improve their lives.  I enjoy being able to give my time to an organization like Lend-a-Hand for that reason," Kurt shared.
Kurt connected us with John Neuberger, Lend-a-Hand's President, to learn more about their services for those in need.
What is your mission?
Davenport Lend-a-Hand Inc. seeks to enhance the dignity and quality of life for those with physical, mental, or age-related limitations by funding and providing support services.
What kinds of support services do you provide?
We provide a lot of basic needs for our residents in our high rise senior living facility, Edgewater-on-Third. Some examples include small appliances, YMCA memberships, or basic toiletry items.
We also have a separate entity that funds Edgewater-on-Third and provides grants to organizations like Humility of Mary, Project Renewal, and CASI. These partnerships ensure we don't duplicate services and partner in ways that best help our residents and the community.
How have you changed over time?
Davenport Lend-a-Hand Inc. was founded on Christmas Day in 1886 by a group of "high spirited and noble minded women to make life better for working girls," according to an old newspaper clipping I found. History buffs may know that downtown Davenport was a bit rough in the late 1800's, so these women founders wanted to provide housing for the rural girls who came into work downtown.
Initially, they rented places for the girls to stay, but in 1923 they built a housing location at 105 S. Main (where the fountain is now on River Drive). That building was intended to house working women, the elderly, and handicapped people.
In the 1980's, the Main Street building needed a lot of work and was in a flood plain, so the City acquired it and tore it down. Soon after in 1988, we secured financing for the 100-unit building at 3rd and Ripley Street in downtown Davenport, now named Edgewater-on-Third.
While we no longer serve just women, we have always been dedicated to enhancing quality of life for seniors and those with mental or physical limitations for 131 years.