Is Your Website ADA Compliant?
Friday, May 27, 2016
By: Diane Reinsch
Your website is your welcome mat to the outside world, telling others about what you do and who you are. You worked hard to send the right message, choose the right colors, and make it user friendly. A person with a disability wants to visit your website, but cannot do so because it is not as user friendly as you thought. You receive a letter saying your website is not accessible to individuals with vision and hearing impairments and not compliant with Title III of the Americans with Disabilities Act ("ADA").  What does this mean?
Most people commonly think of the ADA as protecting individuals from discrimination in employment. However, Title III of the ADA provides for full and equal access for persons with disabilities in places of public accommodation, which are businesses that are generally open to the public and that fall into one of 12 categories listed in the ADA, such as restaurants, entertainment establishments, retail stores, schools, recreation facilities, doctors' offices, hospitals and other service establishments. The ADA and its implementing regulations do not list the internet or websites as places of public accommodation.  Nonetheless, there has been a spate of demand letters and litigation against public accommodations claiming their websites are inaccessible to individuals with vision and hearing disabilities.
The Department of Justice ("DOJ"), which enforces Title III of the ADA took steps in 2010 to provide guidance to public accommodations on website accessibility by issuing an Advanced Notice of Proposed Rulemaking on the accessibility of website information and services and requested public comment. However, the DOJ announced in the fall of 2015 it would not publish proposed revisions to the Title III regulations to address website accessibility until 2018. Consequently, businesses have no guidance on what to do and courts are reaching inconsistent results.  Courts have found:
1) websites are not places of public accommodations;
2) websites are places of public accommodation if the website has some nexus with a physical location;
3)  websites are places of public accommodation even if no connection to a physical location (a position taken in the seventh circuit court of appeals, which governs Illinois).
Even in jurisdictions where courts have held that websites are places of public accommodation, there remain issues of whether the website is sufficiently accessible to comply with Title III. In the Notice of Rulemaking, the DOJ asked for public comment on whether it should adopt the standards in Web Content Accessibility Guidelines 2.0 AA. These guidelines provide specific technical guidance on the design of websites to promote access to individuals with a disability. Some courts have referred to these guidelines even though they have not been formally adopted and are not binding. In addition, the DOJ has referred to these guidelines in settlement agreements.
The trend clearly is toward requiring public accommodations to make websites accessible to all individuals.  So if you receive a demand letter like some of our clients have, you should not ignore it. You must evaluate how you want to proceed given the uptick in litigation and what steps you can take before you receive such a letter to ensure your company's website complies with existing web accessibility standards even though those standards are simply guidelines.
If you are an employer who uses an online application process, you also should consider making changes to your website to ensure your online application process is accessible to all individuals. While the litigation primarily has been under Title III against public accommodations, prospective employees easily could make similar claims under Title I of the ADA against employers whose websites are not accessible.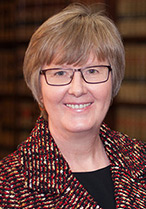 Diane often writes and presents on employment related topics. She practices in the Employment Law group at Lane & Waterman.