Summer Associates Feature: Rachel Conley
Thursday, July 20, 2023
The firm's Summer Associate program gives law students hands-on legal experience after their second year of law school. Summer Associates assist with current client matters, including drafting briefs and transactional documents, attending depositions, arbitration, and mediation sessions; attending client meetings; and observing courtroom practice. We sat down with each of them to learn more about their interests inside (and outside) the field of law. Today we are featuring Rachel Conley.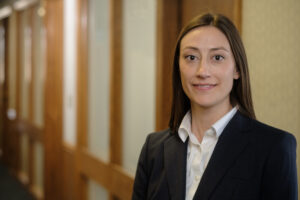 Rachel Conley
What is a day in the life for you at Lane & Waterman so far this summer?

A day in the office usually includes research, analysis, and writing. However, it is exciting because each project is about a completely different topic and area of the law. While one week I may be looking into contracts and family law, the next week I may be learning about property and tax law. Being a summer clerk allows me to experience many areas of the law in a way a classroom never will.

What area of law are you most interested in?

I am most interested in working transactional law and have enjoyed working on client agreements and contracts for the partners here.

What partners are you working with at the firm / what are you doing with them?

I am aiming to work with every partner at the firm to learn about the areas each partner practices.

What has been your favorite part of this experience so far?

My favorite part of working here has been having such a knowledgeable group of attorneys to learn from.

What are you reading/listening to right now?

During my commute, I listen to podcasts like No Stupid Questions, Weird Finance, and The Oath. I also enjoy reading thrillers and romantic comedies.

Favorite thing to do/eat in the Quad Cities?

My favorite places to eat in the Quad Cities are Lemongrass and Front Street. Armored Gardens has been my favorite spot to grab a drink and sit outside with co-workers.