Ian Russell Leads Big Year for Ronald McDonald House
Thursday, April 12, 2018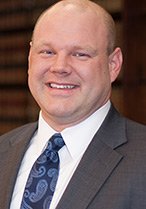 For families with children who are hospitalized, there is nothing like eating a home-cooked meal and sleeping on a real bed. The Ronald McDonald House in Iowa City and the Ronald McDonald Family Rooms in Iowa City and Cedar Rapids provide just that and other comforts of home, all while keeping families close to each other and the care they need.
Ian Russell, an attorney at Lane & Waterman, stepped into the role of president of the Board of Directors of the Ronald McDonald House Charities of Eastern Iowa & Western Illinois (RMHC-EIWI) in January this year.
He shares why RMHC-EIWI is important for families: "It's stressful enough to have a child hospitalized, so RMHC-EIWI with Family Rooms in the hospitals and the House just minutes from the University of Iowa Stead Family Children's Hospital, are a place where families can stay, have some quiet time, a snack, or a meal, and not have additional stress of being separated or having the financial burden of travel and lodging."
The Ronald McDonald House in Iowa City is a home-away-from-home for families with children who are seriously ill or injured. The 31-room home provides comfortable accommodations to families living 20 miles or more from Iowa City, regardless of their ability to pay for their room. Providing all the basics for families who stay there, including a stocked kitchen and nightly meals served by volunteers, the House serves to keep families stay close together during the strenuous time of having a child in the hospital. RMHC-EIWI also runs Family Rooms in the University of Iowa Stead Family Children's Hospital and St. Luke's Hospital in Cedar Rapids.
Some families may stay for only a few days, but many need much longer periods as their children undergo extensive treatment or recovery. Ian has served on the board for three years. The stories of families who benefit from the services fuel his desire to stay involved. He is excited about what's to come for the organization; they have seen the need for what RMHC provides grow during his service.
"This year will be big for us, because we hope to expand and grow our ability to serve more families by renovating the house. At the end of the day, we want to make sure we are caring for families in the best way we can."
Part of their growth has been the addition of the Family Room at St. Luke's Hospital in Cedar Rapids and the Family Room at UI Stead Family Children's Hospital in Iowa City. RMHC-EIWI raises funds to support these two rooms and fund the house in Iowa City. While their name includes "Ronald McDonald," the McDonald's Corporation is just one of many sources of funding for the charity. Those interested in learning more can see a tour of the house and learn how to volunteer at www.rmhc-eiwi.org/get-involved.