Richard Davidson successfully represents the City of Davenport against former commissioners of Davenport Civil Rights Commission
Friday, June 26, 2020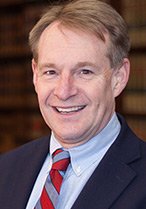 Lane & Waterman attorney, Richard Davidson, successfully obtained declaratory relief for the City of Davenport against four former commissioners of the Davenport Civil Rights Commission who refused to vacate their positions on the Commission following expiration of their terms. On June 22, 2020, Scott County District Court Judge, Tom Reidel, adopted the City's position and granted the City's Motion for Summary Judgment stating, "The clear language of Ordinance 2.58.040 sets the terms of commissioners on the Davenport Civil Rights Commission at two years. To interpret the Ordinance as creating anything akin to a lifetime appointment is absurd and contrary to any legal authority." The ruling effectively ends years of confusion and inaction by the Davenport Civil Rights Commission and clarifies who are legally appointed and lawful Commissioners.
More information can be found in this Quad-City Times article.
Richard (Dick) Davidson joined Lane & Waterman in 1985 and practices primarily in the areas of banking, commercial real estate, and bankruptcy/creditor's rights law.