Pro Bono Recognition Roster Includes Lane & Waterman for 2020
Thursday, June 18, 2020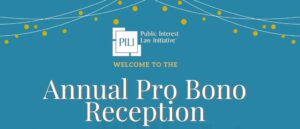 The Public Interest Law Initiative's (PILI) Annual Pro Bono Reception celebrates the inspiring and life-changing pro bono work being done in Illinois through effective pro bono programs, innovative partnerships, and the unwavering dedication of individual attorneys and legal professionals. Given the ongoing concerns around COVID-19, PILI made the difficult decision not to have a live event this year. Instead, on Tuesday, June 16, Illinois Supreme Court Justice Anne M. Burke congratulated the law firms and corporations named to PILI's 2020 Pro Bono Recognition Roster during a virtual event.
Lane & Waterman was among those congratulated by Chief Justice Burke Tuesday. The firm is proud to be included on the Pro Bono Recognition Roster again this year.  The PILI Roster honors law firms and corporations that have made significant commitments and contributions to pro bono throughout the state of Illinois.  By contributing to pro bono, Lane & Waterman is helping to ensure that individuals, families and communities who are in need receive legal services. Lane & Waterman attorneys provide 400 hours of pro bono service on average each year in collaboration with the HELP Regional Office of Iowa Legal Aid and Illinois' Prairie States Legal Services. We also partner with Deere & Company and Chicago-based law firm Riley Safer Holmes & Cancila through Equal Justice Works to sponsor a two-year fellowship for an attorney who works to help under-served populations.
To learn more about PILI's week-long celebration of pro bono, visit their event page.