Three Lane & Waterman Attorneys Recognized for Pro Bono Service
Wednesday, June 1, 2016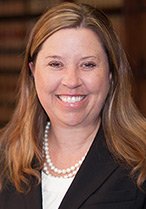 Lane & Waterman attorneys Judy Herrmann, Abbey Furlong, and Kurt Spurgeon were recognized by the Supreme Court of Iowa for their contribution of more than 50 hours of pro bono service in 2015 to low-income clients referred by the Iowa Legal Aid Volunteer Lawyers Project.
Judy Herrmann, who has led the pro bono efforts at the firm for the past 12 years, said, "Our firm is committed to providing legal services to individuals who have limited financial resources to ensure equal access to justice, and I am pleased to receive this award with Abbey and Kurt."
Lane & Waterman attorneys provide pro bono work for Iowa Legal Aid and Illinois' Prairie State Legal Services. Learn more about our pro bono work at: https://l-wlaw.com/our-firm/community-involvement/.