Diane Reinsch Presents to Genesis Nursing Partnership Council
Thursday, October 20, 2016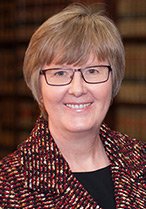 Presenting to nearly 75 nurses at Genesis Medical Center's East Campus, Lane & Waterman attorney Diane Reinsch discussed the rising use of mobile phones in health care and the risks it presents to health care providers. In addition to medical malpractice cases involving "Distracted Doctors," cell phone use can violate patient privacy and ethics codes. The presentation aimed to educate nurse leaders in the health system and raise awareness that these issues exist.
"Use of mobile technology by hospital staff can result in violation of HIPAA, hospital security policies, and nursing Codes of Ethics. Nurses must determine if their communication and workflow habits comply with applicable laws, policies, and procedures," Diane explained to the group gathered for the presentation.
The Genesis Nursing Partnership Council consists of the nursing leaders from across all nursing units in the health system.  They meet monthly to discuss various issues.