Jason O'Rourke and Mikkie Schiltz Elected to American Board of Trial Advocates
Thursday, July 14, 2016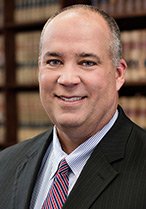 Lane & Waterman partners Jason O'Rourke and Mikkie Schiltz have been elected to the American Board of Trial Advocates ("ABOTA") at the Member Rank. Jason and Mikkie join Lane & Waterman partner Bob Waterman, who was previously elected to ABOTA in 2004 at the Associate Rank and later elevated to the Advocate Rank in 2014.
The American Board of Trial Advocates' mission is to elevate the standards of integrity, honor, and courtesy in the legal profession; aid in the further education and training of trial lawyers; establish relations and cooperation with other legal organizations for the purposes of promoting efficient administration of justice and constant improvement of the law; and cultivate a spirit of loyalty, fellowship, and professionalism among its members. Inclusion on the board is by invitation for trial lawyers with honorable reputation serving in their state bar association.
Jason and Mikkie will be inducted at a ceremony on October 6 in Des Moines, Iowa.