Josh J. McIntyre and Brett R. Marshall are New Partners at Lane & Waterman
Wednesday, January 3, 2018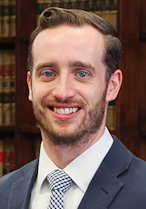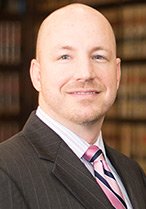 Lane & Waterman is proud to welcome two new partners to the firm: Joshua J. McIntyre and Brett R. Marshall.
Bob Waterman, Managing Partner, shared, "We've always cared about recruiting top talent from law schools in our region. Josh and Brett are exceptional examples of that talent, and we are excited for them to step into the partner role. We know they will carry on our tradition of excellence and quality service to our clients."
Joshua J. McIntyre joined Lane & Waterman in 2012 and practices primarily in the areas of intellectual property, information technology, and professional malpractice, including computer fraud, data privacy and retention practices, matters concerning domain names, trademarks, and trade secrets, and legal malpractice defense. Josh writes regularly on intellectual property matters.  His work appears in the Iowa Defense Counsel Association's Defense Update newsletter and the DePaul Law Review.  He has been cited in numerous scholarly works on data privacy, including Privacy and Data Protection in Business (LexisNexis 2012) and The Oxford Handbook of Internet Studies (Oxford University Press 2013). Josh serves on the Board of Directors for the Iowa Defense Counsel Association and is the co-chair of its New Lawyers Committee. At Saint Ambrose University, Josh serves on numerous advisory councils and scholarship fund-raising committees. He recently completed a term of service for the Sedona Conference's Working Group 11, whose work will help advise lawyers of the best practices for maintaining data security. Josh received his B.A., summa cum laude, in Computer Investigations and Economics from Saint Ambrose University and his J.D., magna cum laude, from the DePaul University College of Law.
Brett R. Marshall joined Lane & Waterman in 2012 as a corporate and business law associate. His practice covers the full spectrum of corporate transactions and counseling. Brett routinely provides legal advice and assistance to in-house counsel, boards of directors, committees and executive officers and other management on a wide variety of routine and complex corporate matters, including business formation, reorganization, regulatory compliance, financing and mergers and acquisitions. Brett serves on the Executive Board of the Illowa Council of the Boy Scouts of America and on the Board of Directors for Habitat for Humanity of the Quad Cities. Prior to joining the firm, Brett attended the University of Iowa College of Law where he graduated with High Distinction and served as Editor-in-Chief for the Journal of Corporation Law. Prior to attending law school, Brett graduated from Brigham Young University-Idaho Magna Cum Laude with a B.S. in English and Economics.
Since 1854, the attorneys at Lane & Waterman have helped clients and their businesses find solutions to issues that matter to them through effective legal counsel. The partnership has evolved into a full-service law firm of over forty attorneys, the largest firm in the Iowa-Illinois Quad Cities. With over 40 practice areas ranging from mergers and acquisitions to complex litigation, Lane & Waterman clients benefit from the collective efforts, knowledge, and experiences of a team of lawyers, legal assistants, support staff, and information specialists. Collaboration throughout the firm ensures each client receives the type of assistance needed, however simple or complex it may be. Learn more about how we help clients at www.l-wlaw.com.