Josh McIntyre Appointed to Law Firm Data Security Brainstorming Group
Tuesday, November 8, 2016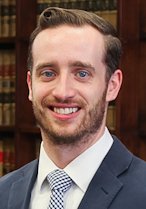 Lane & Waterman attorney Josh McIntyre was recently appointed to the Sedona Conference's Law Firm Data Security Brainstorming Group. The ten-member group is comprised of data privacy and security professionals nationwide, including counsel from Washington D.C., New York City, and Houston. Responding to law firms that have been the target of recent cyber attacks and data breaches, the group will explore the data security issues that law firms face and will develop a guide for future publications about law firm data security.
On why he chose to apply for the brainstorming group, Josh commented, "Cyber security is a growing concern for businesses and law firms alike. It is an honor to be part of a group that will explore these issues and guide the legal industry in efforts to further protect client data from online threats."
Josh joined Lane & Waterman in 2012 and practices primarily in the areas of intellectual property, information technology, and professional malpractice, including legal malpractice defense, computer fraud, data privacy and retention practices, and matters concerning domain names, trademarks, and trade secrets.
About The Sedona Conference®
The Sedona Conference (TSC) is a nonprofit, 501(c)(3) research and educational institute dedicated to the advanced study of law and policy in the areas of antitrust law, complex litigation, and intellectual property rights. The mission of TSC is to drive the reasoned and just advancement of law and policy by stimulating ongoing dialogue among leaders of the bench and bar to achieve consensus on tipping point issues. TSC brings together the brightest minds in a dialogue based, think-tank setting with the goal of creating practical solutions and recommendations of immediate benefit to the bench and bar.