Law Day 2017 Focuses on Civil Rights
Monday, May 1, 2017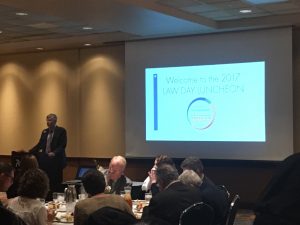 The history of Civil Rights in America, and the 14th Amendment in particular, are the topics of Law Day 2017, a national day to celebrate the rule of law and its contributions to the freedoms Americans enjoy. Celebrated on May 1 every year, this year is the 150th anniversary of the 14th Amendment, granting citizenship to "all persons born or naturalized in the United States." In its various clauses, the 14th Amendment covers U.S. citizenship, the privileges and immunities of citizens, due process, equal protection under the law, and enforcement of laws.
To honor the occasion, the local bar associations hosted a noon luncheon on Monday, May 1 at the Radisson Quad City Plaza. Serving as keynote speaker, Iowa Supreme Court Justice Tom Waterman discussed the ways in which the 14th Amendment has shaped our democracy and how Iowa rulings have led the way.
Read Justice Waterman's remarks.