Jeff Lang Presents at Human Trafficking CLE
Tuesday, January 26, 2016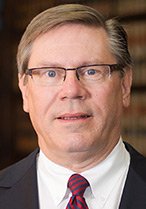 Jeff Lang, attorney at Lane & Waterman, presented at the Human Trafficking: Iowa, Nationally and Internationally – What Iowa Lawyers Need to Know CLE on January 25 in Bettendorf. Topics spanned a wide range of human trafficking issues, including "World-wide View of Human Trafficking Iowa Supreme Court Task Force," "Trauma Informed Care/Investigation," and "Legal Issues in Labor Trafficking." Lang covered the latter, among a panel of attorneys and experts from Iowa, Nebraska and Australia, speaking on reducing demand, supply-chain issues, coordination of agencies and responders, and Civil, Criminal, and Administrative interventions.
"Human Trafficking is the ultimate manifestation of man's inhumanity to other humans for profit," said  Lang of the need for more information, both on the part of legislators, lawyers, and the greater community. "The life-long consequences to victims of human trafficking abuse are horrible and unconscionable."
This CLE in Bettendorf was the first of two seminars on the topic this month, with the second planned at the Iowa State Bar Association Office in Des Moines on January 27.