Lang Mentors Augustana College's Senior Executives for Full-Scale Active-Shooter Exercise
Tuesday, April 26, 2016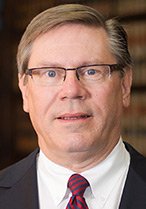 Lane & Waterman attorney Jeff Lang, a former FBI agent and federal prosecutor, served as the mentor and facilitator for the senior executives at Augustana College at its "active shooter" exercise, culminating in a realistic live role-playing event on campus last night. This large-scale exercise, which involved many Augustana employees and students, dozens of emergency responders and law enforcement officials, as well as many other Augustana partners, began in January with a "table top" exercise involving the campus's key stakeholders.  Last night, it became a full-scale effort on the part of the College and its public safety partners to prepare the campus community for the unlikely event of a shooting situation.
"While it's hard to fathom the tragedy of such an event occurring at Augustana College, this demonstrates its keen readiness to respond to and promote the safety of all of its students, personnel, and visitors," Jeff said. "As we have learned over the years, preparations like this and realistic drills and practice are key to responding to emergency circumstances whether they occur at Augustana or elsewhere."
Augustana College is on the leading edge of all aspects of emergency and disaster preparedness, and Lane & Waterman assists it and a number of school districts in the region with such preparations.