Lane & Waterman's attorney, Kyle Day, presents at 2015 Bloethe Tax School
Wednesday, December 9, 2015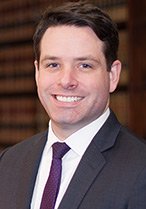 On December 4, 2015, Kyle Day, attorney at Lane & Waterman, presented in Des Moines at the 2015 Bloethe Tax School on the topic: Tax Consequences of Entity Conversions. The presentation was part of a three-day conference sponsored by the Iowa State Bar Association Taxation Section and Tax School Committee with speakers from throughout the Midwest.  Attended by over 500 practitioners each year, the Bloethe Tax School is the premiere tax event in Iowa. Day's presentation focused on the varying federal tax implications of cross-entity conversions between sole proprietorships, limited liability companies, partnerships, and corporations.  In addition to presenting, Day also served as a member on the 2015 Tax School Committee.
Kyle described his presentation this way: "When it comes to converting from one entity to another, there are several pathways one can take and related tax consequences for each. This course highlighted the key federal tax considerations for taxpayers so they could see the consequences in advance of cross-entity conversion transactions and avoid potential pitfalls." A Certified Public Accountant, Kyle, who also holds an LL.M. in taxation, is a regular speaker on a variety of tax law topics, including those at the Tax School.
The Bloethe Tax School is an annual event offered by the Iowa State Bar Association. More information can be found at: https://www.iowabar.org/event/2015BloetheTaxSchool.