Lane & Waterman Receives William B. Waterman Volunteer Attorney of the Year Award
Friday, May 6, 2016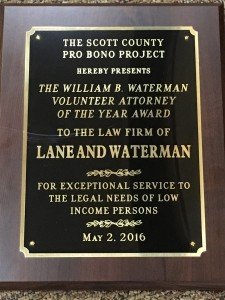 At Law Day 2016, Lane & Waterman accepted the William B. Waterman Volunteer Attorney of the Year Award. Typically awarded by the Scott County Bar Association to an individual attorney who exemplifies service through pro bono work, the award was given to Lane & Waterman this year based on the firm's leadership in pro bono work in the region.
Accepting the award on behalf of the firm, attorney Kurt Spurgeon remarked, "Pro bono work is part of the culture of our firm, so it is with great pride that we accept this award. We share support for pro bono with many in this room, and we encourage all who can to continue the commitment to this work in our community."
Lane & Waterman attorneys provide 300 hours of pro bono service on average each year in collaboration with the HELP Regional Office of Iowa Legal Aid and Illinois' Prairie States Legal Services. Lane & Waterman also partners with Deere & Company and a Chicago-based law firm through Equal Justice Works to sponsor a two-year fellowship for an attorney who works to help underserved populations. The fellowship that will begin in the fall of 2016 seeks to bridge the gap between medical and legal service offerings for low-income individuals in the Rockford area.
A second partnership Lane & Waterman participates in is with the United Way of the Quad Cities Area and Deere & Company to offer a pro bono board governance series for nonprofit organizations in the region. Lane & Waterman attorneys collaborate with Deere attorneys and another local law firm to provide guidance in a seminar format on legal issues related to employment law, contractual agreements, financial oversight, and tax matters.
Finally, Lane & Waterman has worked with PILI and Prairie State Legal Services to provide training to local attorneys on Powers of Attorney.  This training session leads to volunteers participating in workshops where individuals can meet with a trained volunteer attorney to have their Powers of Attorney prepared at no cost.