Lane & Waterman Endorses Q2030
Wednesday, August 17, 2016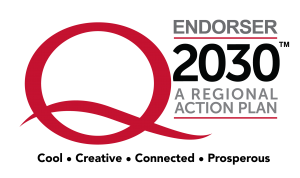 Lane & Waterman joins over 200 individuals, businesses, and organizations in the Quad Cities to endorse the Q2030 Regional Action Plan.
Managing Partner, Dana Waterman, who served as a steering committee member for Q2030, remarked, "We are happy to promote Q2030 and all it stands for: cool places, creative people, a connected region, and a prosperous economy. When the region acts together to advance these initiatives, we all win."
Endorsers of Q2030:
Seek collaborative solutions whenever possible
Think and act in the best interest of the region
Share credit for successes and responsibility for challenges
Speak with respect and regard for all partners in the region
Demonstrate pride and a positive attitude about the Quad Cities
Are open to new ideas
Encourage diversity of opinion
Lane & Waterman and its attorneys have a 162 year history of supporting the Quad Cities community, from non-profit board service and volunteerism to pro bono work. Learn more about the Q2030 Regional Action Plan at www.Q2030.org.