Lane & Waterman Bids Farewell to Long-Term Firm Administrator, Stan Kabat
Wednesday, April 25, 2018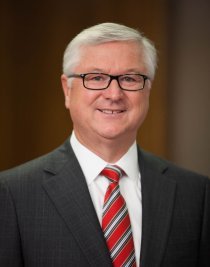 Stan Kabat started at Lane & Waterman in December 2004 after an 18-year career at St. Ambrose University as the Dean of Students. Transitioning from a college campus to the world of lawyers might sound like a difficult change, but Stan was up for the challenge. In his nearly 14 years as Firm Administrator, he has come to know that whether the job involves college students and faculty or attorneys, it's about the people.
In Lane & Waterman's history, there have only been two individuals to fill the firm administrator role in the last 30 years. Larry Harris was the first to take the role in 1986. His retirement ushered in the need for Stan to take his place.
Bob Waterman shared, "When we were a smaller firm, it wasn't as critical to have someone handling the operations of the firm, but as we grew, we knew we needed someone with background in operations so we could focus on what we enjoy doing, practicing law. We couldn't be happier to have Stan in the role for the last 14 years."
Stan began his career in the Quad Cities in 1986 after a spending a few years working in Chicago and Des Moines. He is a Green Bay, Wisconsin area native, but calls the Quad Cities home. He raised his children here, and enjoys life with grandchildren here too. That's one of the aspects of retirement he's looking forward to most –more time with his family. He has many interests, and will now have a bit more time to explore all now that he's not running the day-to-day operations of a busy law firm.
When asked what he'll miss most about working here, he answered, "The friends I've made over the years, with the attorneys, staff, clients, and vendors. When you work with people for long enough, they become more than coworkers."
A new firm administrator is learning the ropes with Stan until his retirement on May 31st. Andy Wall, who spent most of his career with Lee Enterprises, takes the reigns on May 1. The firm joins in wishing Stan well this month and thanking him for his 14 years of service!