Kay-Decker presents to Construction Financial Management Association
Wednesday, January 15, 2020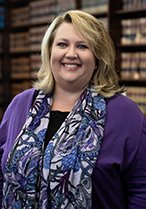 On January 14, Courtney Kay-Decker presented to the Quad City Chapter of the Construction Financial Management Association. She discussed the importance of good cyber hygiene for financial professionals, as well as what's new and on the horizon in Iowa tax law and policy.
A number of provisions of Iowa's historic 2018 tax reform became effective this year, including "rolling conformity" with the federal tax code.  Among other things, this means that the Section 179 expensing deduction limits will match the federal limits for the first time in many years.  In addition, Governor Reynolds has just introduced a broad framework for robust, "Phase 2" tax reform, which includes accelerating and further reducing income tax rate cuts from the 2018 reform package.
Prior to returning to Lane & Waterman, Courtney served as Director for the Iowa Department of Revenue. Her unique experiences in identity theft tax fraud prevention allow her to share cyber hygiene advice. Her practice focuses on tax and administrative matters.