Juehring is Newest Board Member at GiGi's Playhouse Quad Cities
Monday, February 1, 2021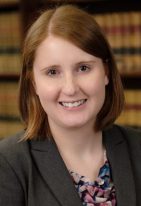 Jenny Juehring is GiGi's Playhouse Quad Cities newest board member. The Muscatine native is new to the Quad Cities, where she began work as an associate at Lane & Waterman this fall. She was thoughtful in her approach to getting to know the Quad Cities, and she sought to volunteer in the community despite the challenges presented by starting a new role and moving to a new place during a pandemic.
"Many non-profits are struggling due to the pandemic. I was very excited when I heard about GiGi's Playhouse.  It is a very important cause I connect with personally. I feel like my work will truly make an impact on individuals with Down syndrome and their families. I am looking forward to serving on the board, as well as interacting with the individuals GiGi's serves," Jenny shared.
Pamela Lynch, Quad Cities Site Director, expressed her enthusiasm at Jenny's addition to the board.
"We are excited to have Jenny on our board and look forward to working with her as we continue to navigate serving our families during the pandemic and how the pandemic has impacted our programs and volunteerism."
GiGi's Playhouse Quad Cities is a part of an international organization with 50+ locations. GiGi's Playhouse provides free educational, therapeutic-based and career development programs for individuals with Down syndrome, their families and the community. Learn more at gigisplayhouse.org.