Iowa Intellectual Property Law Association Welcomes April Price as President
Wednesday, March 14, 2018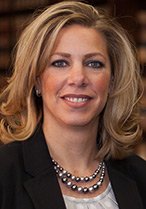 Lane & Waterman attorney April Price, who has served as an officer and on the Board of Directors for the Iowa Intellectual Property Law Association (IIPLA) for 4 years, takes on the role of President of the board in 2018.  In her role, she will lead the organization in engaging intellectual property attorneys, professors, and students across the state in developing and enhancing the profession. She will also bring the IIPLA annual conference to Eastern Iowa for the first time in several years. The annual conference is the largest gathering of intellectual property attorneys in Iowa, bringing nearly 100 professionals together for two days of networking and professional development.
"I am excited to serve IIPLA as President this year. Intellectual property law is a growing practice area, and we have many opportunities to educate ourselves, our clients, and other attorneys on how IP law is an integral part of the practice of law," April shared.
About IIPLA: Iowa Intellectual Property Law Association (IIPLA) is a non-profit organization founded in 1989. It was formed to promote the development of intellectual property law in Iowa and enhance the professionalism of its members. IIPLA's members include attorneys practicing in patent, copyright, trademark, and trade secret law, patent agents, technology transfer attorneys, professors and students.