Iowa Academy of Trial Lawyers Inducts Rob McMonagle and Ian Russell
Friday, February 24, 2017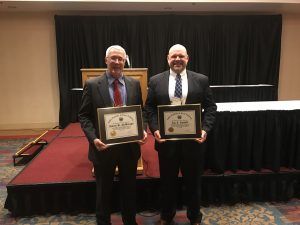 In a ceremony in Des Moines last night, the Iowa Academy of Trial Lawyers (IATL) inducted Lane & Waterman attorneys Robert McMonagle and Ian Russell into the Academy. The two join the firm's Bob Waterman and Jason O'Rourke in IATL, an organization limited to 250 attorneys across the state who are selected by their peers and voted on by the Board of Governors.
"With just shy of 50 trials between them, Robert and Ian exemplify what it means to be trial lawyers in Iowa," said Waterman of their appointment.
Also participating in the IATL events in Des Moines Thursday, Lane & Waterman attorney Andrea Mason wrapped up her Yates Memo presentation tour by speaking to the IATL attendees.  Andrea practices primarily in the areas of white collar criminal defense, government compliance, and civil litigation. She presents regularly on litigation-related topics throughout the region.