Having a Ball for HELP Regional Office of Iowa Legal Aid
Tuesday, March 1, 2016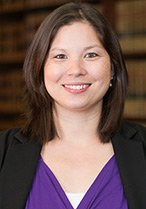 Lane & Waterman attorney, Abbey Furlong, knows how to have a ball, a Barrister's Ball, that is. Furlong, the Scott County Bar Association's Barrister's Ball Committee Chair, shared the details of the upcoming ball with us.
What is the Barrister's Ball?
The Barrister's Ball is a gala held by the Scott County Bar Association to benefit HELP Regional Office of Iowa Legal Aid (a 501(c)(3) nonprofit), which provides essential services for indigent persons and the elderly in Scott and surrounding Iowa counties. Festivities at the event include cocktails, hors d'oervres, dinner, silent auction, and a wine pull.
When and where is the Ball?
The 2016 event will be held on March 5, 2016 from 6:00 pm to 11:00 pm at the Hotel Blackhawk.
What is the impact of the event?
Last year, the net income to HELP from the Barrister's Ball was over $16,000. Throughout the state, nearly 3,400 attorneys volunteered their time with HELP to assist over 2,000 low-income Iowans. Several attorneys from Lane & Waterman dedicate their time to HELP.
Learn more about Lane & Waterman's pro bono work at https://l-wlaw.com/our-firm/community-involvement/.