Kyle Day presents at "Tax Law for Non-Profits"
Thursday, July 21, 2016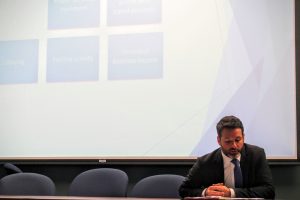 Kyle Day, Lane & Waterman attorney, presented at the United Way of the Quad Cities Non-Profit Board Governance Series on Wednesday. Kyle discussed the common pitfalls for maintaining tax exempt status, including private benefit/inurement, operating in accord with stated purposes, lobbying, political activity, and unrelated business income.
"Non-profit organizations often focus on the mission-critical aspects of delivering services, yet it's important to comply with tax-exempt requirements in order to continue the organization's mission," Kyle explained to the audience assembled for the training.
The Non-Profit Board Governance Series is a service offered by United Way to counsel area non-profits on legal issues related to employment law, contractual agreements, financial oversight, and tax matters. Karrie Abbott, United Way Vice President of Community Impact, commented, "The Non-Profit Governance Training Series has been very well received by staff and board members of local organizations. The participants expressed that the information has been helpful in providing useful and necessary knowledge on governance issues."
The United Way of the Quad Cities and Lane & Waterman partner with Deere & Company and two other local law firms to offer the series each year.