Charles E. Miller Obituary & Iowa Academy of Trial Lawyers Notice
Monday, January 21, 2019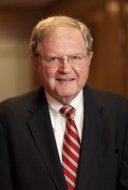 Charles E. "Chuck" Miller
January 16, 2019
BETTENDORF-Charles Ellsworth "Chuck" Miller of Bettendorf passed away Wednesday, January 16, 2019, at University of Iowa Hospitals. He was 73. Growing up in Knoxville, IA, Chuck learned the importance of hard work early on, taking his first job as a paper carrier as a boy. After completing ninth grade, and based on his strength of character, academic ability and work ethic, he was one of five Des Moines Register paperboys awarded an academic scholarship to study at an east coast prep school, attending and graduating from Phillips Exeter Academy in New Hampshire.
Moving on from high school, Chuck next attended Northwestern University, graduating in 1966 with a Bachelor of Arts. Before continuing his education, he volunteered for the service. Upon enlisting in the United States Navy, he was selected for Officer Candidate School and was granted his commission as an Ensign. He served on active duty aboard the U.S.S. York County for the next 3 years before joining the US Navy Reserve, retiring at the rank of Commander after 20 years in the service of his country.
After completing his active duty service, Chuck resumed his academic studies, receiving his J.D., with distinction, from the University of Iowa College of Law in 1973. Upon graduation, he joined the law firm of Lane & Waterman, eventually becoming a partner, where he remained until his retirement in 2010. As a brilliant trial attorney, Chuck spent his 37-year career helping younger attorneys in the firm sharpen their trial skills. Chuck was a member of the Iowa Academy of Trial Lawyers, Iowa Defense Counsel Association (President, 1995-1996), International Association of Defense Counsel, and Dillon Inn of Court.
Chuck had a lifelong love of travel, visiting a myriad of global destinations with his companion of 40 years, Pat, and with a never-ending list of places to go next. Whenever possible, he combined his love for travel with his love for history. Anytime he found himself in New York, he was certain to be found at the nearest Broadway show.
Chuck was preceded in death by his parents, Hiram and Genevieve Miller, and is survived by partner Patricia Rostenbach Ernst Miller, daughter Kimberly Ernst Ryan (Michael), son Michael Ernst, daughter Kate Miller, son Matt Miller (Sara), sister Nicole Miller Vitkus, and seven grandchildren.
Services will be held at 1 PM Tuesday January 22nd at Weerts Funeral Home, 3625 Jersey Ridge Road, Davenport. Visitation is Monday evening from 4 – 7 PM at the funeral home. Burial with military honors will be at the National Cemetery, Rock Island.
As an expression of sympathy, memorial contributions may be made to The Michael J. Fox Foundation for Parkinson's Research. Condolences to www.WeertsFH.com.
____________________________________________________________________________________________________________
Fellows,
I regret to inform you that we have lost one of our esteemed fellows, Charles (Chuck) Miller from the Lane and Waterman law firm in Davenport.
Chuck was an extremely skilled defense attorney who was deeply regarded for his many talents throughout the state of Iowa.  In recognition of his abilities he was not only selected to our beloved Academy, he served as a past president of the Iowa Defense Counsel.
Our thoughts and prayers are with his family, his law firm colleagues, and his many friends throughout Iowa.
Visitation will be Monday, January 21 from 4 – 7 pm at Weerts Funeral Home in Davenport, with services at 1 pm on Tuesday, January 22nd.