Chamber Names Dana Waterman Volunteer of the Year
Friday, August 14, 2020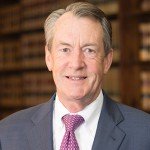 Lane & Waterman's Dana Waterman is the Quad Cities Chamber of Commerce's 2020 Volunteer of the Year.
 Since 2010, Waterman has served as the Board Chair of Grow Quad Cities Fund – Iowa, a designated 501c3 nonprofit corporation that serves as a catalyst for economic growth in the region. Through his leadership, Grow Quad Cities granted funds to support businesses following the 2019 flood.
Additionally, Waterman led the Grow Quad Cities Board through the sale of the building that houses the Quad Cities Chamber office in Davenport and granting of funds from the sale to the Chamber. Most recently, Waterman led the Board through the transformation of Grow Quad Cities into the Quad Cities Chamber Foundation by clarifying its regional focus and beginning the process to diversify funding sources.
"Grow Quad Cities, now the Quad Cities Chamber Foundation, has been a vehicle for me to continue my 30-year involvement with the Chamber as well as support the needs of the community, and this award really is a validation of the work the Chamber and my fellow board members have been doing," Waterman said. "I've long felt that it's a very important part of what I can do individually and on behalf of my firm to give back to the community because the community has been very generous to us."
The firm joins the Chamber in congratulating Dana on his service to our community and the example he sets for all the firm's attorneys.