Mike Byrne Presents to Genesis Physicians on Electronic Medical Records, Social Media, and HIPPA Issues
Tuesday, March 21, 2017
At six events throughout the month of March, Lane & Waterman attorney Mike Byrne is presenting to Genesis physicians and staff on technology use in health care. His presentation, entitled, "The Risks of the Electronic Age in Health Care Including the Electronic Medical Records, Social Media, and HIPPA Issues," discusses the legal and ethical issues in dealing with the electronic world, appropriate methods of communicating information via social media, Facebook, and texting, and managing the Electronic Health Record (EMR).
Mike commented that the ethics of social media in particular is important to understand, because of the intersection of personal and professional use.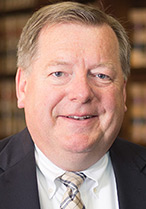 Mike presents regularly on health care law topics and works with health care providers and physicians throughout the region.