A Thoughtful Transition: Byrne Succeeds Waterman as Managing Partner
Monday, January 11, 2021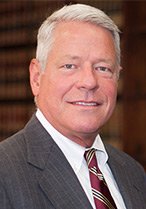 Mike Byrne is Lane & Waterman's newest Managing Partner, succeeding Bob Waterman, the fourth-generation lawyer who held the role from 2017 until the end of last year. At its December meeting, Lane & Waterman partners elected Byrne as chair of its Management Committee and its de facto Managing Partner.
Bob Waterman, Jr. began his career at Lane & Waterman in 1981 and for 40 years has practiced primarily in the areas of professional malpractice, product liability, and insurance coverage litigation. He is a Past President of the Iowa State Bar Association and is actively involved in numerous law-related organizations throughout Iowa and the United States. Bob is also a co-trustee of the Hubbell-Waterman Foundation and serves on the boards of the Iowa Legal Aid Foundation, Iowa Academy of Trial Lawyers, Friendly House, Together We Win Quad Cities (TWWQC) PAC, and on the Investment Committee at Trinity Episcopal Cathedral.
Bob will continue to practice law at the firm and looks forward to continuing to serve the firm's clients and be a resource to his fellow partners. He anticipates the transition will be a smooth one.
He shared, "Mike has served on the Management Committee for many years and knows our traditions and values. He is a steady, thoughtful leader. Clients and fellow attorneys alike look to Mike for his sound judgment and caring approach. Our firm is in good hands."
Mike Byrne joined Lane & Waterman in 1986 and focuses on general corporate/business law. (acquisitions, organization, operation and planning), health care law, professional corporations, and employment law.
From 2010 to the present, Mike has been recognized by The Best Lawyers in America for Health Care Law, Insurance Law, Ethics and Professional Responsibility Law. Mike has served on the Board of Governors for the Iowa State Bar Association (2009-2013), as a member of the Iowa Supreme Court Board of Professional Ethics and Conduct (1994-2003), as a member of the Iowa Board of Medicine (2000-2004), and as president of the Iowa Society of Healthcare Attorneys (2003-2004). Mike is a member of the American Health Lawyers Association and the Iowa Society of Healthcare Attorneys.
Mike received his Bachelor of Business Administration from the University of Iowa, his Juris Doctorate (Order of the Coif) from the University of Kansas School of Law. He resides in Davenport with his wife, Bonnie. Mike is a member of the Finance Councils at Assumption High School and St. Paul the Apostle Catholic Church.