2017 Brings Leadership Transition to Lane & Waterman
Wednesday, January 4, 2017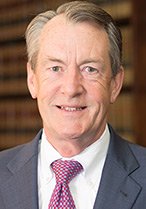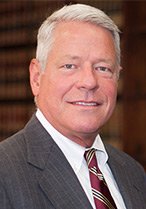 After 16 years as Managing Partner at Lane & Waterman, Dana Waterman, the fourth-generation attorney at the Quad Cities' oldest law firm, is passing the baton.  At its December meeting, Lane & Waterman partners unanimously elected Bob Waterman, Jr. as chair of its Management Committee and its de facto Managing Partner.
Dana has been an attorney with Lane & Waterman for more than 45 years and serves on numerous boards in the community, including the Quad Cities Chamber of Commerce, the Quad City Defense Alliance, Genesis Health System, the University of Iowa Health Alliance, Augustana College, and the Iowa Law School Foundation.  He also serves on the board of several privately-held companies and as a co-trustee of the Hubbell-Waterman Foundation and a founding co-trustor of the Quad City Cultural Trust.  In 2015, Junior Achievement of the Heartland named Dana as a Laureate in its Quad-Cities Business Hall of Fame.
Dana will continue at Lane & Waterman as Of Counsel and intends to play an active role in the community.  "It has been my privilege to spend my career at Lane & Waterman and to serve as its Managing Partner. I look forward to watching the Firm continue to grow and prosper under Bob's leadership," Dana remarked on the transition.
Bob Waterman, Jr. began his career at Lane & Waterman in 1981 and for 35 years has practiced primarily in the areas of professional malpractice, product liability, and insurance coverage litigation. He is a Past President of the Iowa State Bar Association and is actively involved in numerous law-related organizations throughout Iowa and the United States. Bob is also a co-trustee of the Hubbell-Waterman Foundation and serves on the boards of the Iowa State Bar Foundation, Iowa Academy of Trial Lawyers, Friendly House, and on the Investment Committee at Trinity Episcopal Cathedral. He will begin his duties as Managing Partner on January 1, 2017.
About Lane & Waterman
 Since 1854, the attorneys at Lane & Waterman have helped clients and their businesses find solutions to issues that matter to them through effective legal counsel. The partnership has evolved into a full-service law firm of over forty attorneys, the largest firm in the Iowa-Illinois Quad Cities. With over 40 practice areas ranging from mergers and acquisitions to complex litigation, Lane & Waterman clients benefit from the collective efforts, knowledge, and experiences of a team of lawyers, legal assistants, support staff, and information specialists. Collaboration throughout the firm ensures each client receives the type of assistance needed, however simple or complex it may be. Learn more about how we help clients at www.l-wlaw.com.