Kay-Decker to Present at 2021 ABA/IPT Advanced Tax Seminar
Monday, March 8, 2021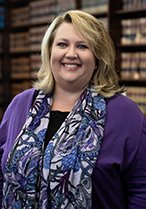 Lane & Waterman Of-Counsel Courtney Kay-Decker has been selected to speak at the 2021 American Bar Association / Institute for Professionals in Taxation Advanced Tax Seminar's Tax Administrators' Roundtable on Monday, March 15.
Topics that will be covered during the roundtable include:
Tips to identify how each Administrator's state has responded to Wayfair, including implementing economic nexus and marketplace developments
Ways to advise clients or their companies about key issues they may be facing in each of the Administrators' states
How to evaluate the best methods to address and resolve key issues in each state
More information and registration can be found at the link below.
To Learn More
Courtney Kay-Decker joined Lane & Waterman LLP in 1998 and rejoined the firm in 2019 after an eight-year hiatus leading the Iowa Department of Revenue. Her experience in the public and private sectors informs her collaborative approach to the practice of law. Her areas of practice include tax and administrative matters. Her unique experiences in identity theft tax fraud prevention allow her to share "cyber hygiene" advice as well.