Introducing… Sarah Oberg Ramirez
Monday, September 26, 2022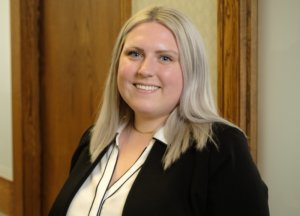 Lane & Waterman is proud to welcome three new associates in the summer of 2022: Samuel Cropper, Brittany Kammerer, and Sarah Oberg Ramirez.
We sat down with each of them to learn a little about their interests inside (and outside) the field of law. First up in our series is Sarah Oberg Ramirez.
Prior to joining the firm, Sarah worked in Accounting & Finance for Deere & Company in various areas, most recently focusing on corporate taxation. Sarah focuses primarily on Corporate & Transactional Law, including mergers and acquisitions, corporate and limited liability company formation and governance, commercial real estate transactions, and general corporate and contractual matters. In addition, Sarah assists Partners with workers' compensation and brewery and distillery law matters.
Sarah received her Bachelor of Arts degree, cum laude, in Accounting and Business Administration from Augustana College in 2016, and her Master of Accounting degree from Saint Ambrose University in 2018. Sarah received her J.D., cum laude, from the Loyola University Chicago School of Law in 2022. She currently resides in Davenport, Iowa with her husband.
What was your favorite class in law school?

Well, I am a dork and enjoyed classes like Contracts and Secured Transactions… but I did get to take some interesting electives, including Education Law & Policy and American Indian Law & Indigenous Justice. One of my favorites may have been Remedies, which was more of a capstone course. After learning the rules of law in our foundational classes like Contracts and Torts, Remedies brought it all together and taught us the various damages or forms of relief available to clients.
What makes the area of law you hope to focus on attractive or interesting?

I'll likely be focusing on transactional law, so I'll be seeing mergers and acquisitions, commercial real estate development, business entity formations, and general contractual and corporate business matters. I find this work interesting because I have the opportunity to support local businesses and entrepreneurs in the Quad Cities Area. I'm not a Quad Cities native, but I absolutely love living here, and I'm always excited to see the commercial and economic development in the area. Helping businesses in our community grow and thrive is a rewarding experience.
What is another career you would consider if not here practicing law?

Prior to joining the firm, I worked in corporate tax accounting and enjoyed it. Tax is full of challenging, complex problems and, similar to my work here at the firm, requires learning the law and applying it to individuals and entities to solve problems or ensure compliance. If I had to pick something a little more exciting than the law or accounting, I think I'd enjoy event planning. I'm very organized and would love to plan weddings or other large events.
What is the best piece of advice you've received?

My dad told me a very long time ago to always remember that you're probably never the smartest person in a room. No matter how successful you may be in school or work, the world is filled with incredibly intelligent people who all have a unique perspective to offer. This advice motivated me to never stop learning and to stay curious about the world and others in it.
What is a book / podcast you're into right now?

The books I'm actually most into right now are all of my cookbooks. I love to cook, but while finishing law school and studying for the bar exam, I was so busy that I stuck to simple, easy, and usually boring, recipes. Now that I have more free time outside of work, I've started diving back into my huge cookbook collection and trying fun, new recipes. I've been trying to eat mostly healthy meals during the week, and my current favorite is Healthy in a Hurry by Danielle Walker.
Quick Round

Favorite legal tv series or movie? The Good Wife or of course, Legally Blonde.
Go-to Whitey's order? Right now, the pumpkin pie shake.
Oxford Comma – Need it or lose it? Need it!