Introducing… Jenny Juehring
Tuesday, October 6, 2020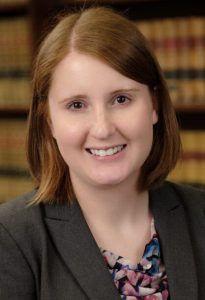 Lane & Waterman is proud to welcome four new associates in the fall of 2020: Thomas Bush, Jenny Juehring, Austin Lenz, and David Waterman.
We sat down with each of them to learn a little about their interests inside (and outside) the field of law. The second part of our series is Jenny Juehring.
Prior to joining Lane & Waterman, Jenny spent a year clerking for The Honorable Leonard T. Strand, Chief Judge of the United States District Court for the Northern District of Iowa.  Jenny received her B.A., with highest distinction, in political science and economics from the University of Iowa in 2016.  In 2019, she received her J.D., magna cum laude, from the Washington University School of Law, where she served as the Managing Editor of the Washington University Law Review.  Jenny has also been admitted into the Order of the Coif. Her practice focuses primarily on labor and employment law and corporate law.  Jenny also assists partners and clients with civil litigation in commercial and employment matters.
What was your favorite class in law school?
Employment law with Professor Kim.  Professor Kim knew the subject matter better than anyone (she wrote our casebook) and cared that we learned and understood the material.  Employment law was also a subject I wasn't too interested in before taking the class but after I thought about focusing on it in my career.
What is a book / podcast you're into right now?
I recently started listening to Strict Scrutiny hosted by Leah Litman, Melissa Murray and Kate Shaw.  The podcast is about the Supreme Court and its legal culture.  All three hosts are law professors that clerked for Supreme Court justices out of law school so they have great insight and commentary.
What is another career you would consider if not here practicing law?
This is tough, I think if I didn't go to law school I would have pursued a career in higher education administration or went to graduate school for political science.
What makes the area of law you hope to focus on attractive or interesting?
I haven't settled on a specific area of law yet.  One area of law that I am interested in is employment because there is often a lot of writing involved.  I enjoy working on any project that gives me the chance to write.
What's the best piece of advice you've ever received?
My parents have often told me not to stress over things I cannot control.  Instead of being stressed out about a situation out of your control, you should focus on what you can do to make the situation better.
Quick Round:
Law & order like shows – Yes or no?
No
Quad Cities style pizza – Yes or no?
Yes
Oxford comma – Need it or lose it?
Lose it