Introducing… Brittany Kammerer
Tuesday, October 4, 2022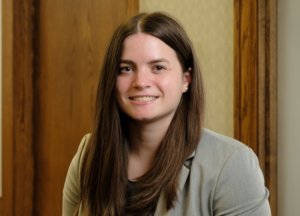 Lane & Waterman is proud to welcome three new associates in the summer of 2022: Samuel Cropper, Brittany Kammerer, and Sarah Oberg Ramirez.
We sat down with each of them to learn a little about their interests inside (and outside) the field of law. Next up in our series is Brittany Kammerer.
Prior to joining the firm, Brittany worked two years as an operations assistant at a contract therapy company in Des Moines, and for 2 years prior as an Account Coordinator at a Real Estate Tech Firm in Minneapolis. During law school, she spent a summer externing for Chief Magistrate Judge Helen C. Adams of the United States District Court for the Southern District of Iowa.
Brittany received her B.A., magna cum laude, in English literature with minors in History and Spanish from the University of Minnesota in 2015. In 2022, she received her J.D., with distinction, from the University of Iowa School of Law, where she served as a Managing Editor of the Iowa Law Review.
What was your favorite class in law school?

I enjoyed Constitutional Law II, Employment Law, Trial Advocacy, and surprisingly Contracts.
What makes the area of law you hope to focus on attractive or interesting?

I am interested in the litigation work I have received as every dispute and issue is unique. Especially with commercial litigation, I get to learn all about different businesses and industries. I enjoy employment law because you can advise employers about contracts and policies and assist if any disputes turn into litigation.
What is another career you would consider if not here practicing law?

Before ultimately choosing law school, I debated going to grad school to become a therapist. During college I considered majoring in physics to become an Astronaut. I scrapped that idea once I learned I did not meet NASA's height requirements.
What is the best piece of advice you've received?

Every successful person was once a beginner. It is a good reminder not to compare my current skill level with those who have had years of experience. All the brilliant, successful attorneys around me were once in my position. It motivates me to keep learning and developing my skills.
What is a book / podcast you're into right now?

I am currently reading Legacy of Ashes: The History of the CIA by Tim Weiner and have started my journey reading the Wheel of Times series by Robert Jordan. I have only finished the first book Eye of the World, so I have a long ways to go. My favorite podcast is Everything Iconic by Danny Pellegrino. Danny provides recaps of the Real Housewives shows on Bravo. I started watching some of the shows because of his hilarious commentary alone.
Quick Round

Favorite legal tv series or movie? TV series: The Lincoln Lawyer Movie: Legally Blonde
Go-to Whitey's order? As a quad city transplant, I am still figuring out my go-to order. Recently I had a vanilla-marshmallow shake with cookie dough which was amazing!
Oxford Comma – Need it or lose it? Need it!