Innovation Interview: Moeller Nights and Triple Crown Whiskey Bar and Raccoon Motel
Thursday, May 11, 2017
Lane & W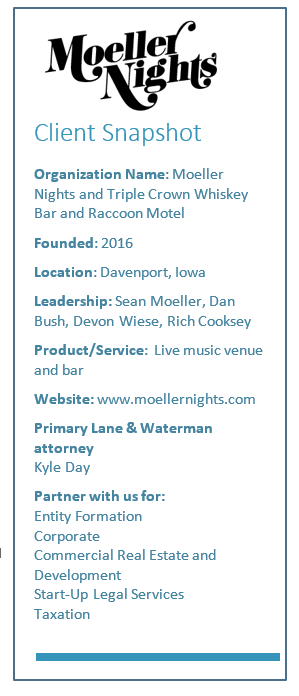 aterman's Innovation Interviews highlight the unique and innovative work our clients do in the community. This week, we talked with Sean Moeller, founder of Moeller Nights and co-owner of Triple Crown Whiskey Bar and Raccoon Motel. Sean spends his days booking artists for concerts in the Quad Cities and is determined to make the Quad Cities a go-to music destination for artists and music-lovers.
How do you determine which bands play at your shows?  
It might sound counterintuitive, but the bands where I've had the best wins are those that are pretty young and relatively unknown. We can have a small audience, but something about seeing a band before they make it big draws people in.
I've been booking bands for long enough now that people believe me when I say, "You have to see this band. They are great." They trust that I'm not going to bring in anything that doesn't live up to that.
What makes Moeller Nights unique?
I started Moeller Nights to fill a need in the Quad Cities, and I see it as a service for the community, something that makes the community a good place to live. The Quad Cities has a lot to offer, but there can still be an attitude that to have a good time, you have to go elsewhere. I want to help change that. I'm not selling widgets or windows…I'm selling fun. If 50,000 people in the Quad Cities gave Moeller Nights one night a month, every show would be sold out. A lot of fun would be had. It's a big goal, but one that would have a big effect on the local economy (not just my shows) if it happened.
What's on the horizon for you?
We want Triple Crown Whiskey Bar and Raccoon Motel to be the urban Codfish Hollow. Codfish Hollow is this destination place in the middle of nowhere, and we can pack it with 600 people for relatively unknown bands. With more people living in downtown Davenport and so many new developments in the works, we feel we're in the right place at the right time to attract new people to the QC music scene.
Outside of my music passion, I do want to help more young people see that the Quad Cities is a place they can live and raise a family and have a fun career. I don't know what that will look like yet as far as a formal endeavor, but you can be sure I'm talking with other community leaders and thinking hard about ways we can communicate that message.