Innovation Interview: Augustana College
Tuesday, May 23, 2017
Lane & Waterman's Innovation Interviews highlight the unique and innovative work our clients do in the community. This week, we focus on the CORE program at Augustana College. Senior Communication Director Sam Schlouch visited with us to dis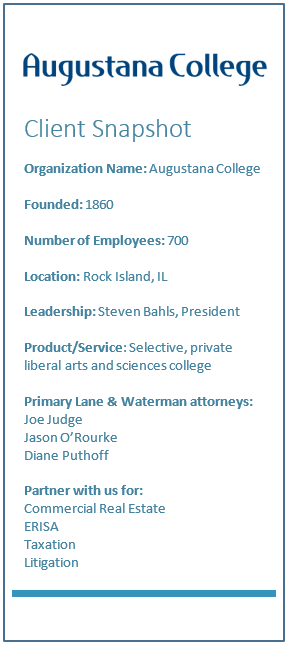 cuss how CORE helps prepare students for life after graduation.
What is CORE and how is it unique?
CORE (Careers, Opportunities, Research, and Exploration) provides students with learning experiences related to careers and internships, graduate school and research, study abroad, and vocational discernment. Students visit CORE for help with things you might think of like resume creation or mock interviews, but also for any number of our other unique experiences, such as service learning, the Entrepreneurial Center (EDGE), or the Upper Mississippi Center.
When we started CORE, we tripled the number of professionals offering career advice and consolidated these services into one place in the heart of campus.
Augustana's CORE program is one of the first of its kind in the nation; other institutions look to us as a model when they want to revamp their career services. We're proud to be a leader in this area, but our biggest source of pride is how CORE enables each student to personalize their Augustana education outside the classroom.
Can you give an example of how it works?
A first-year student may walk into CORE with an interest in business, but she isn't sure what that means. She might meet with our Vocational Services Director who will help her identify her skills, gifts, and passions. From there, the student might work with our internship office at CORE to find an internship or make a plan for study abroad. Because all these services are consolidated in one place and the staff are cross-trained, this first-year student walks away from her time at CORE with a better understanding of where she wants to go, and she didn't have to visit five different offices on campus to begin.
How do you measure success? 
We have a program called Augie Choice, which grants $2,000 per student for experiential learning. To date, we've given $6.5 million back to students through this program and increased the number of students studying abroad to 55%. We also have 68% of students placed in one or more internships. These are just two examples of the metrics we use to gauge our success.
We also have what we call the Viking Score, which helps students track their professional readiness. For example, first-year students are encouraged to earn Viking Score points for meeting with CORE staff, creating a resume and cover letter, setting up a LinkedIn profile, completing five hours of community service activities, and attending a CORE event. Students are encouraged to self-report their Viking Score to CORE every term, which allows us to measure and track over time how students are engaging with CORE services.
What industry pressures dictate the need for something like CORE on college campuses? 
Our students' and prospective students' parents ask about and care about outcomes; will their son or daughter have a job or graduate school placement after they graduate?
CORE's interdisciplinary approach helps put each student on the right track to a fulfilling career or graduate school experience. CORE is a real competitive advantage for the college, because it focuses on these outcomes and we've been able to measure success.
How have career services changed over time?
Even as recent as 15 years ago, career services on college campuses were referred to as the "placement office." Employers would send available jobs to the college, and students who came looking for a job would be placed in whatever was available.
We have become much more sophisticated and personalized in our approach to job placement. Two full time staff dedicate their time to building relationships with employers so they can connect students with jobs and internships that fit their interests and skills.
As an aside, recent years have shown that more Augustana graduates choose to live and work in the Quad Cities. At CORE, we promote the assets of the Quad Cities region and work to place more students in internships and service learning opportunities here locally.
Is there anything else you want us to know?  
Our mission is to offer a challenging education that develops qualities of mind, spirit, and body necessary for a rewarding life of leadership and service in a diverse and changing world. We believe CORE delivers on the mission of the college through its interdisciplinary, personalized approach to student career exploration. For Augustana students, CORE is just one more way they can make the Augustana experience their own.