Community Service Spotlight: Joe Judge, Family Resources
Tuesday, December 12, 2017
For the past six years, Lane & Waterman attorney Joe Judge has served on the board of Family Resources. As his tenure of service comes to a close, he wanted to highlight the organization and its work in the community.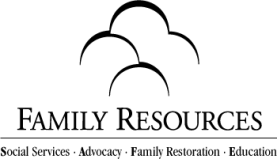 He shared, "Some of our community's most vulnerable citizens are cared for by the staff and services of Family Resources. It's vitally important work.  While my term on the Board of Directors is coming to an end, I look forward to staying connected with the organization and supporting its mission as a community member of the Finance Committee."
Family Resources' Mission & Service
The mission of Family Resources is "to strengthen children, families, and individuals by providing quality services that engage community resources to create effective solutions." Family Resources has been dedicated to that mission since its establishment in 1849. The agency was started by a group of women who volunteered to assist immigrant families in need. As the needs of families and the community have evolved, so have the programs at Family Resources.
Family Resources offers a wide range of services and programs, meeting the needs of diverse populations and age groups through child welfare and juvenile justice, mental health, TotalChild, Integrated Health Home, and survivor services. Each program at Family Resources works from a trauma informed approach embracing four core values of safety, service, teamwork, and resourcefulness.
TotalChild: A Long-Term Approach to Helping Children Succeed
TotalChild is a new service delivery model that Family Resources launched in November 2015. It is a comprehensive and long-term approach for helping children and families. It is based on the premise that when children hurdle all obstacles to success, our families, homes, neighborhoods, and communities are stronger. Rather than treating a problem with one-time, short-term treatment, TotalChild looks deeper and broader, to address all the critical factors that can change a child's life. Currently, TotalChild is a three year pilot project consisting of two Success Managers and a Program Leader with the goal of serving 170 youth ages 5-16 in Scott County. One of the most unique and impactful components of TotalChild is that it is a service delivery model that works with a child and their family until the child reaches the age of 18, regardless of the age of enrollment.
TotalChild is comprehensive. It addresses four domains of a child's life: child (behavioral health, substance abuse, and life skills), family (healthcare coverage, physical health, child care, parenting capacity, permanency, food, housing safety), community (family support network and neighborhood support network) and school (attendance and achievement). It is a client-centric service delivery model that consists of a comprehensive intake that addresses indicators that are assessed as "below stable" within the four domains listed above.
TotalChild is coordinated. Success Managers coordinate care within Family Resources and with community partners. Additionally, this model provides active progress management that connects youth with truly effective services in the least restrictive setting, makes certain that transitions in services are seamless, and monitors the youth's progress to maintain stability. Progress is measured every 60 days against the plan as well as the assessment tool. Once stability is maintained for at least six months, the client is moved into what is called the Continuing Support phase where the Success Manager is available to the client and family at any time, but they check in with the client and family at a minimum once per year. This phase continues until the client turns 18 years of age. "Success" is defined as a child that achieves and maintains stability in all four-domain.
"I could not be more excited about TotalChild and what it can do for children and families in our community. It is truly a holistic approach to helping children. It does not just treat symptoms, it addresses core issues that are preventing a child from being successful and then provides the ongoing monitoring. TotalChild is one of those ideas that combines better outcomes for the children with lower costs overtime."
Success Stories
Currently, Family Resources has enrolled 101 youth in the TotalChild pilot with a 92% success rate. Recently, one TotalChild family achieved an amazing milestone of purchasing their own home. However, before this single mother of two got to this point, she engaged in multiple Family Resources services such as Mental Health and Integrated Health Homes, to ensure her and her two sons attained and maintained stability.
For more information on TotalChild or how to get involved with Family Resources, please visit their website at www.famres.org.
Joe Judge is a corporate and transactional attorney with a focus in banking and finance, commercial real estate development, securities, taxation, and general corporate law. He is active in many charitable and community organizations, including Family Resources, John Deere Classic, and United Way of the Quad Cities Area.