Changes to Title IX Regulations
Thursday, January 31, 2019
What You Need to Know about the Secretary of Education's Proposal and the Public Response.
By: Maegan Gorham
On November 29, 2018, Secretary of Education Betsy DeVos released a proposal for new Title IX regulations addressing institutional response to incidents of sexual harassment and allowed public comment on the proposed changes through the required notice and comment process. Between the proposal date and the close of the public comment period on January 28, 2019, the public posted over 85,000 comments to the www.regulations.gov website, many vehemently opposing the regulations.
Title IX prohibits discrimination on the basis of sex in education programs and activities receiving federal funding. No Title IX regulations have ever been enacted to specifically address sexual harassment as a form of sex discrimination; instead, the Education Department previously issued guidance documents to aid institutions in understanding the legal obligation to respond to sexual harassment. Secretary DeVos wishes to establish formal regulations under Title IX regarding sexual harassment rather than depend on Department guidance publications.
The proposed changes represent a change in the political climate. In addition, there have been numerous lawsuits filed by students accused of violating their institution's Title IX policy. These lawsuits have alleged a lack of hearing rights, lack of legal representation, improper scope of the Title IX hearing, and an inability of the accused to confront the accuser. The stakes are high because the sanction imposed against the accused often includes suspension and/or expulsion from the institution.
The new regulations seek to provide appropriate standards for how educational institutions respond to incidents of sexual harassment in order to ensure institutions understand their legal obligations and what conduct is actionable under Title IX. The proposed regulations require a school's investigation to be fair and impartial and imposes a new system of checks and balances with the stated purpose of producing more reliable outcomes.
The Department summarizes the major provisions of the regulatory action as follows:
Defines the conduct constituting sexual harassment for Title IX purposes;
Specifies when an institution is obligated to respond to allegations and establishes a general standard for the sufficiency of an institution's response;
Specifies situations that require an institution to initiate its grievance procedures;
Establishes mandatory procedures to ensure a fair and reliable factual determination during investigation and adjudication of a sexual harassment complaint;
Clarifies that institutions are not required to deprive an individual of rights that would be otherwise guaranteed under the U.S. Constitution;
Prohibits the Department's Office for Civil Rights (OCR) from requiring an institution to pay money damages as a remedy for a violation of any Title IX regulation; and
Eliminates the requirement that religious institutions submit a written statement to qualify for the Title IX religious exemption.
Secretary DeVos states that her focus is on "ensuring that every student can learn in a safe and nurturing environment," but the public outcry over the proposed regulations has been fervent with many of those opposed claiming the regulations protect sexual harassers. Many believe procedural safeguards, such as requiring a survivor to report the harassment to specific employees, will create barriers to reporting and administering support to victims. Others believe the official regulations will clarify expectations and allow institutions to more efficiently and fairly respond to allegations.
The Chronicle of Higher Education reports that these five proposals define the most important changes:
A person accused of misconduct is guaranteed the right to cross-examine the accuser through an attorney during a live hearing;
An institution is only required to investigate formal complaints of incidents that happened on campus or within an educational program or activity;
The definition of sexual harassment is narrower and must be "so severe, pervasive, and objectively offensive that it effectively denies a person equal access to the recipient's education program or activity" rather than the previous definition – "unwelcome conduct of a sexual nature."
Institutions have the option of using a higher standard of proof – clear and convincing evidence rather than preponderance of the evidence.
Institutions have leeway to use mediation and information resolution if both parties agree.
With the public comment period closing on January 28, 2019, the Department will be busy reviewing every one of the 85,000+ comments posted during the notice and comment period, as required by the Administrative Procedures Act.
Lane & Waterman LLP will continue to monitor the progress of the proposed regulations and will post more information about compliance with the new regulations or new Department guidance as information becomes available.
https://www.regulations.gov/document?D=ED-2018-OCR-0064-0001
https://www.chronicle.com/article/What-You-Need-to-Know-About/245118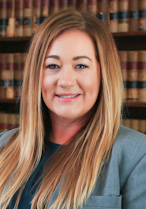 Maegan M. Gorham joined Lane & Waterman in 2018. Her practice focuses primarily on education law, employment law, not-for-profit corporate planning and governance, and general business matters.