Attorney Thoughts on 165
Tuesday, November 19, 2019
Attorneys are known for their ways with words, so we couldn't resist asking them for their thoughts on the firm and the future of the legal profession:
What is your favorite memory in your career at Lane & Waterman?
Who is someone that has been a mentor to you in your legal career?
What do you think will change the most in the legal industry in the next 165 years?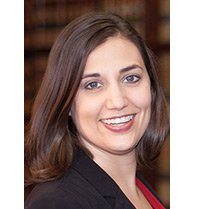 Diane Puthoff – Partner
There are so many feel-good moments in my field of practice it is hard to come up with one.  I recall one instance where I helped a family in a pro bono matter that was in tax debt pretty deeply.  We worked with the IRS to settle the matter for a fraction of the debt, and the couple was so deeply moved and appreciative of our work that they continued to stop in and say hello to me for years to come.  It was very heartwarming to see how a little help could go such a long way and I loved to see how much their family grew over the years.  In more recent times, I was just involved with a wonderful woman that left a substantial gift to St. Ambrose as a part of her plan of legacy giving.  This was a gift that started in the 1990's and followed through to her death last year culminating in over $1.3M to St. Ambrose.
At Lane & Waterman, Dave Dettmann was my number one mentor and friend.  He has taught me so much before he retired and is a true friend.  Outside of Lane & Waterman, my father was my first mentor and advisor in the legal field.  Without my father's influence I likely would not have ended up in the legal world.
There are so many things that will change in the next 10 years let alone 165!  I think the better question is what won't change in the next 165 years…in that respect I think no matter how much automation and technology changes people will still want to have a trusted advisor they can reach out and talk to for their estate planning needs.  There is a lot to be said about having someone trusted at your fingertips and to have a voice at the other end of the line that will listen and turn your thoughts into a lasting written legacy.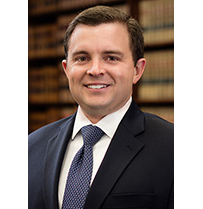 Tim Gulbranson – Associate
I was assigned a small claims matter in which the primary legal arguments concerned federal maritime law—something very rare in Iowa.  The matter went to trial with multiple witness examinations including an expert witness.  Despite having very little experience, I took on the matter on my own and the judge ruled in our favor!
As for a mentor, even though he's younger in age than me, Sam Skorepa—who has been an attorney a few years longer than I—has been an excellent mentor.
What will change…Robots.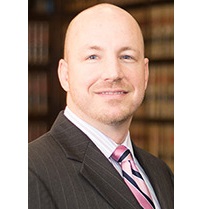 Brett Marshall – Partner
I don't have one favorite memory at L&W. I do however enjoy the times we get together as partners, whether at our formal annual dinner or at a partner's home to celebrate a birthday. L&W partners are great people to be around in and out of the office.
I have had a number of partners mentor me at L&W. Richard Davidson and Scott Van Vooren are a couple of partners who really stand out to me. Despite the fact that they are some of the busiest attorneys in the office, they always take time to offer advice, provide feedback on work, discuss strategy and just chat. These kinds of interactions are invaluable to young attorneys.
I think that what will change is competition for legal services. This will continue to be an issue for years to come. Many people believe that legal services are commodity work. There are certainly some areas of the law that involve routine forms and procedures. Anyone can fill out a form. But at L&W our client relationships last long after a document is signed or a transaction closes.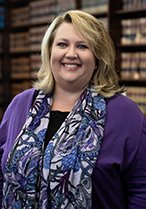 Courtney Kay-Decker – Of Counsel
I grew up in west Davenport with parents who owned a small business and grandparents who owned farms.  The firm represented all of them, and I was fortunate to be exposed to L & W attorneys in action during my youth.  And I wanted to be like them!   At the time, I don't think I really understood why.   From my young viewpoint, they were so smart and seemed to be able to solve anything!  In 1998, I was so proud to join the firm as an associate and was equally proud to be made partner a handful of years later. As I recall, I was one of the first associates hired to work specifically with a particular partner – Pete Benson.  My work was to be in health care compliance and, my favorite, tax!  Pete was the best mentor a lawyer could have, teaching me how to be a lawyer, and teaching me the Lane & Waterman way.   I quote his wisdom more often that I like to admit.  But Pete wasn't unique (sorry, Pete).   I remember that all of my associate cohorts had their own Pete.  Some of those mentors have moved on or retired, some are now judges, and some have passed on.  But each of us knows that we have learned from some of the best lawyers in our state, and the country for that matter.
So what is the Lane & Waterman way?  In a word, it's stewardship. Lane & Waterman is special because of all of the lawyers who came before us and the examples they set.   Each of us, I think, feels a duty to carry on their legacies of excellence, leadership and service to our clients and our community.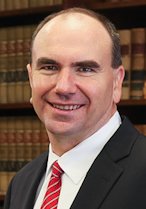 Troy Howell – Partner
There is not one specific favorite memory that sticks out.   The best memories are being able to come through and get the job done for clients.  Clients invest a lot in their lawyer-time, emotion and, of course, their hard-earned money.  I have a litigation practice and as a litigator, nothing is more rewarding than delivering on that investment with wins and favorable results.  At the end of the day, that is what it is all about.
Of course, there have been many lawyers at Lane & Waterman that I have learned from and respected.  For me, former Lane & Waterman partner Rand Wonio is at the top of the list.  Sadly, Rand passed away a few years ago but his memory and legacy at Lane & Waterman live on.  Rand was an outstanding trial lawyer.  While I certainly learned a lot about trial strategy and techniques from working with Rand, Rand was a role model in how to conduct yourself as a lawyer.  He was a straight shooter–honest and to the point with the court, opposing counsel, and clients even when delivering "bad" or unwelcome news.  He treated everyone involved in the practice of law with respect and kindness, including staff members at Lane & Waterman, court personnel, and opposing counsel.  He was able to be lighthearted and share a laugh even during the stress and pressure of a high stakes jury trial.  He showed that a lawyer can be a zealous, even tenacious, advocate for his clients without being a bully or jerk.  Perhaps most importantly, Rand had his priorities straight.  While maintaining a robust law practice, he was a dedicated family man who also gave back to his community.
Mikkie Schiltz – Partner
Mentor:  Chuck Miller and Bob Waterman were great mentors to me over the years.  Chuck Miller worked diligently to get me (and others) involved in litigation and trial work.  He took me to client meetings, introduced me to clients, and allowed me to take depositions and handle court hearings.  Bob Waterman has been a great mentor, teaching me by example all aspects of litigation.
Changes:  Since I began work here (18 years ago), things have become more electronically accessible, to the extent nearly all work is done electronically.  It is extremely rare that you serve or depend on mail or fed ex to send things to clients or opposing counsel.  In the next many years, I would expect more functions to become automated with clients expecting answers and responses almost immediately.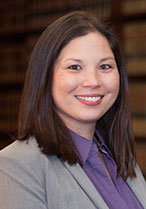 Abbey Furlong – Partner
I had a response all prepared for this question and then I found out that Sam said his favorite memory was meeting me. So for the official record, my favorite memory from my time at Lane & Waterman is having met my husband!
Learning the art of trying a case in front of a jury from Bob Waterman has been such a privilege. As an associate, Bob is someone who took the time to offer substantial feedback on my work product but the opportunity to observe Bob in trial was even more valuable. It's impossible to be in the same room as Bob and not learn something.
In terms of litigation, I think the trend we are seeing favoring mediation/arbitration will continue to grow and that we'll start seeing even more creative solutions to assisting clients resolve legal disputes more efficiently.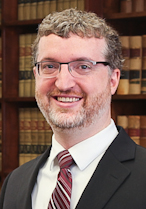 Sam Skorepa, Partner – I think I would have to go with meeting my wife.  Pete Benson has been my most influential mentor.  Dave Dettmann also.  Where the legal industry will go in the next 165 years, obvious answer is online or electronic, although I still believe there will be work that requires and values personal relationships.